The date commemorating a famous mathematical constant also featured the induction of the newest members of the college's chapter of the Pi Mu Epsilon mathematics honorary society.
The ceremony was held in room 104 of VanderWerf Hall on Tuesday, March 14. The date is sometimes known as "Pi Day" because when it's written numerically it resembles Pi: 3.14. Also in keeping with the theme, the event began at 6:28 p.m. (2Pi-time), and featured pretzels (knots, for studies in mathematics) and pies.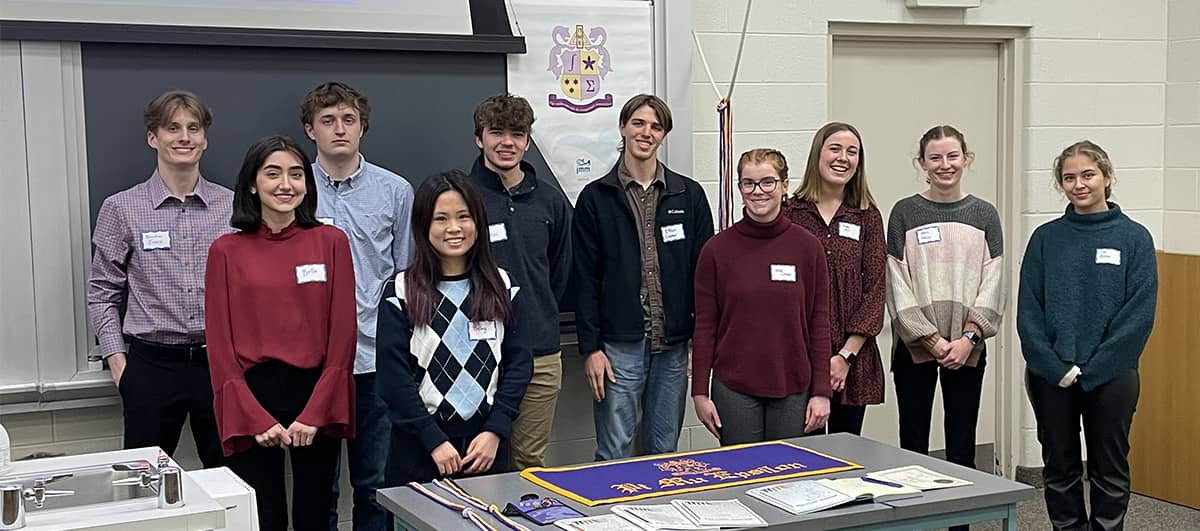 A total of 13 students were inducted during the ceremony. The newest members are: Jennifer E. Almquist, Gabriella M. Bishop, Caleb D. Brzezinski, Ethan D. Cramer, Brendan J. Evert, Abigail J. Fansler, Benjamin N. Jackson, Macy E. Kerr, Molly A. Leonard, Ian M. MacDonald, Yiting Shen. Isabella M. Tafarello and Gavin VandenTop.
In addition to the Hope event, the national Pi Mu Epsilon organization announced on March 14 that Hope faculty member Dr. Dyana Harrelson, assistant professor of mathematics instruction, has been elected to a three-year term on the society's governing council that will begin on July 1. Dr. Stephanie Edwards, professor of mathematics and department chair, is currently the national organization's president, serving a three-year term that will conclude on June 30, after which she will continue to be on the council for a year as immediate past-president.
The concept of Pi has a long history. As recounted in a 1999 article in Scientific American, it was known to the ancient Babylonians and Egyptians circa 2000 BCE and refined to greater precision across the centuries which followed, including by Archimedes. The Greek symbol, the article notes, was first used to represent the figure in 1706.
Pi Mu Epsilon is dedicated to promoting true scholarship, especially in mathematics. Founded in December 1913 and incorporated in the following May, Pi Mu Epsilon today has 409 chapters in 49 states and the District of Columbia. Hope's Michigan Delta Chapter became the fourth chapter in Michigan when it was established in 1972.
March 14 also has a more somber meaning at Hope: It is the anniversary of the death in 2021 of physics faculty member Dr. Jennifer Hampton due to injuries sustained in an automobile accident. For a second year, members of the campus community honored her with a 3.14-mile memorial run organized by colleague Dr. Charles Cusack, professor of computer science, mathematics and statistics.