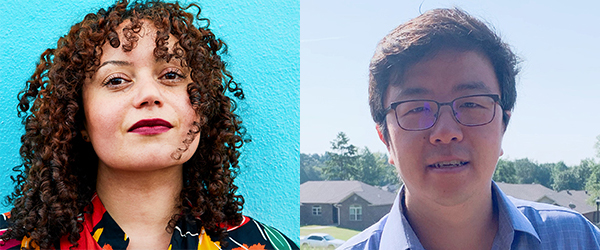 Hope College's Jack Ridl Visiting Writers Series will feature a reading and question-and-answer opportunity with authors Melissa Valentine and Michael X. Wang on Wednesday, Feb. 8, at 7 p.m. in Winants Auditorium of Graves Hall.
The public is invited. Admission is free.
Melissa Valentine was born and raised in Oakland, California. Her debut memoir, "The Names of All the Flowers," is, as the book jacket describes, "an intimate portrait of a family fractured by the school-to-prison pipeline and an enduring love letter to an adored older brother." Alicia Garza, co-founder of Black Lives Matter, has said, "[This book] encourages us to be brave... enough to imagine a world that loves Black people, in all of our complexities." Valentine lives in Brooklyn and is an executive editor for Callisto Media.
Michael X. Wang was born in China and immigrated to the U.S. as a child. According to author Porter Shreve, Wang's debut, "Further News of Defeat," is "a collection of deeply researched and engrossing, wonderfully evocative and moving short stories about the people of a particular village in China and the migration of their descendants to urban centers and new lands... A beautiful, assured, and unforgettable debut." Wang is working on two novels and teaches at Arkansas Tech.
Valentine and Wang were awarded the GLCA New Writers Award for creative nonfiction and fiction, respectively. "Their narratives brim with detailed images and meaningful tension; the people they bring to life on the page are complex and nuanced, capable of wounding and being wounded, but susceptible, like each of us, to the power of tenderness," said Dr. Susanna Childress, an associate professor of English who directs the Jack Ridl Visiting Writers Series.
More information about the authors' visit can be found online at hope.edu/jrvws
Audience members who need assistance to enjoy any event at Hope fully are encouraged to contact the college's Events and Conferences Office by emailing events@hope.edu or calling 616-395-7222 on weekdays between 9 a.m. and 5 p.m. Updates related to events are posted when available in the individual listings at hope.edu/calendar
Graves Hall is located at 263 College Ave., between 10th and 12th streets.