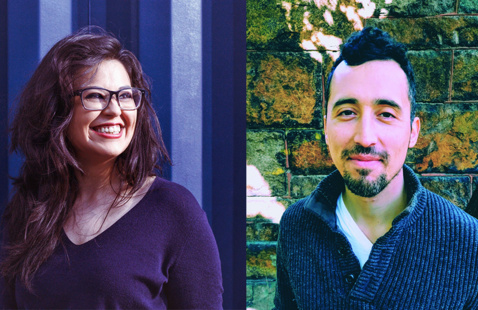 The Jack Ridl Visiting Writers Series at Hope College will feature Sumita Chakraborty and Noé Álvarez for a reading and question-and-answer session on Tuesday, March 7, at 7 p.m. in Winants Auditorium of Graves Hall.
The public is invited. Admission is free.
Sumita Chakraborty is an essayist, poet and scholar who teaches at North Carolina State University; she holds a BA from Wellesley, an MFA from the University of Michigan and a Ph.D. from Emory. Her debut book of poetry, "Arrow," has been touted by "The Guardian" as "...a book to hold close, an amulet that transmutes the intensities of grief into something uplifting, the attempt to keep hold of wonder." Chakraborty is currently completing her first scholarly monograph, "Grave Dangers: Poetics and the Ethics of Death in the Anthropocene," which will be published by the University of Minnesota Press.
Noé Álvarez holds a BA from Whitman College and an MFA from Emerson College. Booklist has summarized his memoir, "Spirit Run," as "...a powerful American coming-of-age story about a Mexican American who seeks to embrace his heritage while forging his own path forward." Álvarez has studied conflict analysis, peacemaking and conflict resolution at American University and in Northern Ireland; received a fellowship at Princeton University's Woodrow Wilson School; and researched U.S. drug policy, military aid and human rights issues in Colombia's Putumayo jungles. He lives in Boston, where he worked as a security officer at the Boston Athenaeum.
This is the fourth event of the current academic year for the series, which is celebrating its 40th year at Hope. More information about the series can be found online at hope.edu/jrvws
Audience members who need assistance to enjoy any event at Hope fully are encouraged to contact the college's Events and Conferences Office by emailing events@hope.edu or calling 616-395-7222 on weekdays between 9 a.m. and 5 p.m. Updates related to events are posted when available in the individual listings at hope.edu/calendar
Graves Hall is located at 263 College Ave., between 10th and 12th streets.