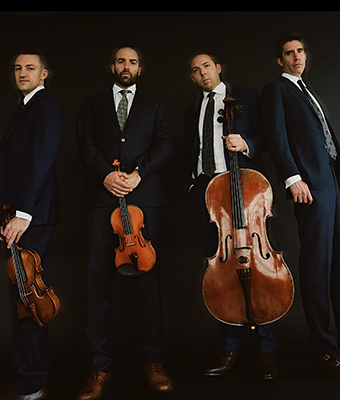 Hope College's Great Performance Series will continue its 2023-24 season with the Escher String Quartet on Thursday, Oct. 26, at 7:30 p.m. in the Concert Hall of the Jack H. Miller Center for Musical Arts.
The quartet has received acclaim for its musical insight and rare tonal beauty, with BBC Music Magazine praising the group's "eloquent, full-blooded playing." A former BBC New Generation Artist and recipient of the Avery Fisher Career Grant, the quartet has performed at the BBC Proms at Cadogan Hall and is a regular guest at Wigmore Hall. In its hometown of New York, the ensemble serves as season artists of the Chamber Music Society of Lincoln Center.
Championed early on by a previous GPS performer, The Emerson String Quartet, the Eschers were invited by both Pinchas Zukerman and Itzhak Perlman to be Quartet in Residence at each artist's summer festival. They've performed throughout the world, and their Hope College performance will feature works by Mendelssohn and Janacek, and a full performance of Schubert's "Death and the Maiden," considered one of the pillars of chamber music repertoire.
Tickets are $28 for regular admission, $23 for senior citizens, and $14 for children 18 and under, and are available at the Events and Conferences Office located downtown in the Anderson-Werkman Financial Center (100 E. 8th Street). The office is open for ticket sales on weekdays from 9 a.m. to 5 p.m. and can be called at (616) 395-7890.
Season tickets for the 2023-24 Great Performance Series are also available. The full lineup for the season, and more information on the Escher String Quartet, is available at hope.edu/gps
To inquire about accessibility or if you need accommodations to fully participate in the event, please email accommodations@hope.edu. Updates related to events are posted when available in the individual listings at hope.edu/calendar
The Jack H. Miller Center for Musical Arts is located at 221 Columbia Ave., between Ninth and 10th streets.