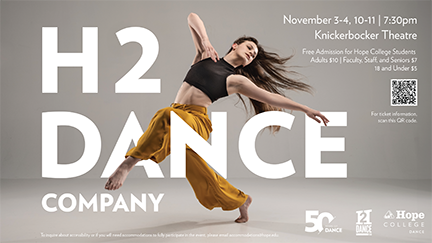 The H2 Dance Company of Hope College will present its fall concert on Friday and Saturday, Nov. 3-4, and Friday and Saturday, Nov. 10-11, at 7:30 p.m. in the Knickerbocker Theatre in downtown Holland.
Behind the November performances are two celebrations of rich history. This past August the H2 Dance Company and the college's Department of Dance kicked off two milestones, with the dance department celebrating 50 years and its extension, the H2 Dance Company, celebrating 10 years.
Pieces of this performance contain audience favorites from recent years, as well as new works that the department has created. Performances are choreographed by faculty members Matthew Farmer, Sharon Wong and Jasmine Mejia, and guest choreographer Kristen Farmer.
The members of the H2 Dance Company are students, and include: Jennifer Almquist, Kylea Canada, Zoey Cappatocio, Kailoni Christian, Maureen Cole, Jordan Dillabough, Maggie Hartman, Mackenzie Kellogg, Claire Knodel, Abby Mains, Taryn Meyer, Morgan Mohler, Sloane Provost, Shannon Rodriguez, Cali Smith, Miranda Stepchuk and Madeline Williams.
Tickets are $10 for regular admission, $7 for senior citizens and Hope faculty and staff, $5 for children ages 18 and younger, and free for Hope students. Tickets are available at the ticket office in the Events and Conferences Office located in downtown Holland in the Anderson-Werkman Financial Center (100 E. Eighth St.). The ticket office is open weekdays from 9 a.m. to 5 p.m. and can be called at 616-395-7890. Tickets are also available online at hope.edu/tickets.
To inquire about accessibility or if you need accommodations to fully participate in the event, please email accommodations@hope.edu. Updates related to events are posted when available in the individual listings at hope.edu/calendar.
The Knickerbocker Theatre is located in downtown Holland at 86 E. Eighth St. between College and Columbia avenues.