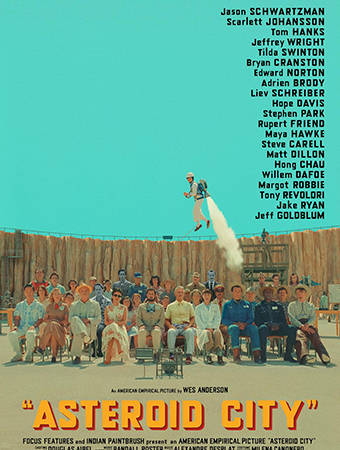 The Hope College Knickerbocker Theatre in downtown Holland is presenting a series of four films featuring new independent, international, and non-mainstream films in September and October. With the exception of the first film, the series is returning to its Monday-Saturday format, with all films beginning at 7:30 p.m.
The series will begin with "Asteroid City," which because of the Labor Day holiday is showing Tuesday-Saturday, Sept. 5-9. The film was directed by Wes Anderson, one of the most acclaimed directors working today, and features his unusual visual appeal and more than a dozen top-tier actors. Set in a retro-future 1950s, the movie, which blends comedy, drama and romance, is a play within a television show. Recently widowed war photographer Augie Steenbaeck (Jason Schwartzman) shows up with his children for Asteroid Day, which commemorates the day a meteor crashed near the site. He meets Hollywood star Midge Campbell (Scarlett Johansson), who has brought her whiz-kid daughter to take part in Asteroid Day competition. From there, comes a plot with an alien, atomic bomb and government lockdown. The film also includes Tom Hanks, Jeffrey Wright, Margot Robbie, Tilda Swinton, Bryan Cranston, Edward Norton, Adrien Brody, Liev Schreiber, Steve Carell, Matt Dillon, Hong Chau, William Dafoe, Jeff Goldblum and many other well-known actors. "Asteroid City" is rated PG-13 and runs 105 minutes.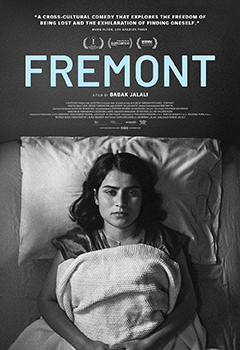 The comedy/drama "Fremont," showing Monday-Saturday, Sept. 11-16, centers on Donya (Anaita Wali Zada), a 20-something Afghan translator who used to work with the U.S. government and has trouble sleeping. She lives by herself in Fremont, California, in a building with other Afghan immigrants, and her life follows a lonely routine. The situation changes when she's promoted to writing the fortunes at her job at a fortune-cookie factory in the city. As her fortunes are read by strangers throughout the Bay, Donya's smoldering longing drives her to send a message out to the world, unsure where it will lead. "Fremont" has been called "Lovely and hypnotically deadpan" by Variety, and "Delightfully warm and comically offbeat" by The Playlist. The film is not rated and runs for 91 minutes.
A French drama featuring César Award-winners Virginie Efira and Roschdy Zem, "Other People's Children"
will show on Monday-Saturday, Sept. 25-30. Rachel (Efira) loves her life, her students, her friends, her guitar lessons and even her ex. When she falls in love with Ali (Zem), she grows to love his 4-year-old daughter as a mother would. But, she is not yet a mother and, as she is 40 years old, she knows she has little time left to become one. The film also explores how to navigate life when one loves other people's children but may not be able to become part of their lives. The Guardian has called the film "a heartfelt relationship drama for intelligent adults." In French and Hebrew with English subtitles, "Other People's Children" is not rated and runs 103 minutes.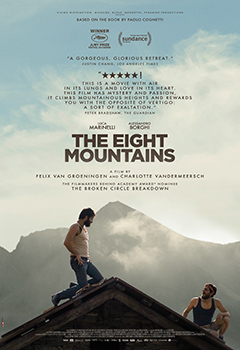 Winner of the Jury Prize at the 2022 Cannes Film Festival, the Italian film "The Eight Mountains" will show on Monday-Saturday, Oct. 9-14. An epic journey of friendship and self-discovery set in the breathtaking Italian Alps, the film is a landmark cinematic experience. Adapted from the award-winning novel by Paolo Cognetti, the film portrays the complex relationship between Pietro (Luca Marinelli) and Bruno (Alessandro Borghi), who first meet as children. As they mature, Pietro becomes estranged from his father even as Bruno, emotionally abandoned by his own father, takes up the role of surrogate son. Pietro's father's death reunites the two in realizing his dream of constructing a cabin on the Alps, Yet, despite their connection, the purity of nature and the demands of society threaten to drive the men to pursue different, possibly irrevocably divergent paths. The Los Angeles Times called the film "magnificent. A gorgeous, glorious retreat." Presented in Italian, English, and Nepali with English subtitles, "The Eight Mountains" is not rated and runs 147 minutes.
Tickets for the individual films are $7 for regular admission, and $6 for senior citizens, Hope College faculty and staff, and children. Tickets will be sold at the door.
Concessions are available for the Wednesday- through Saturday-night showings. Patrons are welcome to bring their own non-alcoholic drinks and snacks to the Monday and Tuesday showings.
Audience members who need assistance to fully enjoy any event at Hope are encouraged to contact the college's Events and Conferences Office by emailing events@hope.edu or calling 616-395-7222 on weekdays between 9 a.m. and 5 p.m. Updates related to events are posted when available in the individual listings at hope.edu/calendar
The Knickerbocker Theatre is located at 86 E. Eighth St., between College and Columbia avenues.