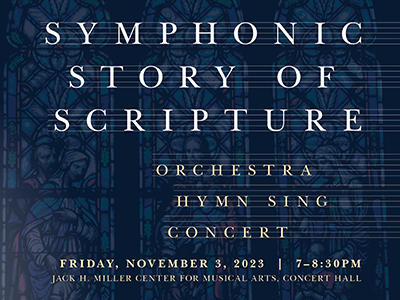 The Hope College Orchestra will present "The Symphonic Story of Scripture," a hymn-sing program, on Friday, Nov. 3, at 7 p.m. in the Concert Hall of the Jack H. Miller Center for Musical Arts.
The public is invited. Admission is free.
The idea for a hymn sing came from the student-formed orchestra board with the aim of reaching out to the Holland community. The performance will lead the audience in experiencing the entire biblical story through song. The concert will also feature Dr. Huw Lewis, professor of music, as organist.
The evening will include many hymns, including "All Creatures of Our God and King," "This is My Father's World," "How Great Thou Art" and "When I Survey the Wondrous Cross," among others. It will conclude with the Doxology, "Praise God from Whom All Blessings Flow."
The orchestra is under the direction of Samuel Pang, assistant professor of music instruction and the director of orchestras. Born and raised in Hong Kong, Pang holds a Master of Music degree, a Bachelor of Music degree, and a Performer's Certificate from the Eastman School of Music. He is currently pursuing a Master of Arts in Theological Studies as an off-campus student at Regent College in Vancouver, British Columbia, Canada.
Pang has taught and performed in multiple cities in Asia, Europe and North America. He has conducted symphony orchestras in prominent concert halls worldwide, including the Musikverein in Vienna, Vigadó Concert Hall in Budapest, Smetana Hall in Prague and John F. Kennedy Center for the Performing Arts in Washington, D.C.
To inquire about accessibility or if you need accommodations to fully participate in the event, please email accommodations@hope.edu. Updates related to events are posted when available in the individual listings at hope.edu/calendar.
The Jack H. Miller Center for Musical Arts is located at 221 Columbia Ave., between Ninth and 10th streets.