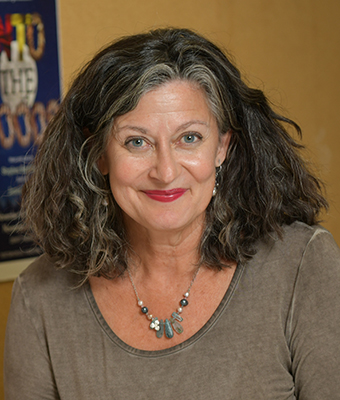 Longtime Hope College theatre faculty member Michelle Bombe has been appointed executive director of Hope Repertory Theatre.
"Michelle's leadership is grounded in 32 years with the theatre department, and for 17 seasons she worked directly with Hope Repertory Theatre," said Dr. Stephen Maiullo, interim dean for the arts and humanities. "In addition, as a recognized national leader in theatre education, she is deeply committed not only to continuing and building on Hope Rep's 50-year tradition of producing quality professional theatre, but also to the program's role in providing meaningful learning experiences to undergraduates from Hope and other colleges and universities around the country."
Established in 1972, Hope Repertory Theatre — or, "Hope Rep" — produces plays and educational programs across the summer as well as during the academic year, and includes theatre professionals as well as student interns both onstage and behind the scenes. The company's next production will be "It's a Wonderful Life: A Radio Play" on Tuesday-Saturday, Dec. 19-23, returning due to popular demand following its presentation last year. The productions for the summer of 2024 will be announced in conjunction with the December performances.
Bombe, who is a professor of theatre, resident costume designer and department chair, succeeds Lenny Banovez, who became Hope Rep's artistic director in 2018.
"Heartfelt thanks to Lenny Banovez for his leadership over the past five seasons," Maiullo said. "Alongside Staci Timmer, Marcus Johnson [also members of the leadership team] and the Hope Rep companies over the last five years, Lenny navigated a pandemic, celebrated our 50th season, and diversified Hope Repertory Theatre programming that welcomed the entire community."
A member of the Hope faculty since 1991, Bombe appreciates Hope Rep not only as a theatre professional, but as a former student. Her first connection with the company was in the summer of 1984, when she was an acting intern while she was an undergraduate theatre major at the University of Evansville.
"I am delighted to take on this new role with Hope Repertory Theatre. Through my experience with KCACTF, I honed my skills as a leader of an arts organization. I discovered my passion for producing theatre and hiring professional theatre artists to work alongside and share their talents with emerging theatre students. I am excited to utilize my gifts as a strategic thinker to give back to the organization that was so pivotal to my experience as a young theatre artist." Bombe said. "I also want to recognize my colleagues in the theatre department, I am so fortunate to have such a dedicated and talented team of faculty and staff who are also committed to supporting Hope Repertory Theatre as it continues to produce quality professional theatre linked to a robust internship program for undergraduates."
As department chair, Bombe is responsible for the academic program of the Department of Theatre and overseeing all aspects of the theatre program. She teaches courses in costume design, principles of design and introduction to theatre practice, and has also taught First-Year Seminars and Senior Seminars. She has designed costumes or mentored her advanced student designers for all of the theatre productions at Hope. Her students have been placed in graduate programs around the country, with many now teaching at colleges and working professionally in the design field.
In addition to her educational background, Bombe brings artistic and financial experience to her new role with Hope Repertory Theatre. Bombe most recently completed a four-year term as the national chair of the Kennedy Center American College Theatre Festival (KCACTF) and CEO of American College Theatre Management LTD, where she led the artistic direction and vision of the national organization featuring eight regional festivals and a national festival, featuring nationally known professional guest artists. Prior to her role as national chair, she served as national vice chair and CFO of the $1.5 million organization and previously served as the Region 3 chair for KCACTF and continues as the Region 3 financial director. In April, she received the National Kennedy Center Medallion — the most prestigious national award presented by the KCACTF — for her career-long dedication to teaching and producing theatre. In 2016 she received a Gold Medallion as recognition for her service from KCACTF Region III, the five-state region that includes Michigan.
Bombe has also been active in campus governance at Hope. She was elected a Faculty Trustee on the Hope College Board of Trustees for a term from 2008 to 2012, and during her time at the college has chaired or served on several campus boards and committees.
She has designed costumes for more than 120 productions in her career, which has included professional work with Kentucky Shakespeare Festival, Theatre at Monmouth, and her 17 seasons with Hope Rep. She was head of design at Kentucky Shakespeare Festival for 10 seasons, interviewing and hiring the technical staff, in addition to designing costumes for all the productions. In 2008, the Jasper Arts Center in Indiana, held an exhibition titled "Michelle Bombe: Costume Designs for Kentucky Shakespeare Festival 1998-2008." Her design work for Hope has been recognized with Design Excellence Awards by KCACTF and inclusion in the Region III Costume Parade.
Hope Rep began as Hope Summer Theatre, made possible by the opening of the 500-seat DeWitt Center main theatre in the fall of 1971. It adopted its current repertory format, and became Hope Summer Repertory Theatre, in 1974. The name was shortened to Hope Repertory Theatre last year to reflect the company's expansion to include productions at other times of the year.
Hope Rep's production of "It's a Wonderful Life: A Radio Play" will be performed on Tuesday-Friday, Dec. 19-22, at 7:30 p.m. and Saturday, Dec. 23, at 1:30 p.m. at the college's Knickerbocker Theatre in downtown Holland. Tickets are $30, and are available at the Events and Conferences Office located in the Anderson-Werkman Financial Center at 100 E. Eighth St. adjacent to the Knickerbocker. The ticket office is open weekdays from 9 a.m. to 5 p.m. and can be reached at 616-395-7890. Tickets may be purchased online at hope.edu tickets or by calling or visiting the ticket office.