Organist Aaron Tan is returning to Hope College to present the annual Donia Recital on Tuesday, Jan. 24, at 7:30 p.m. in the Jack H. Miller Center for Musical Arts.
The public is invited. Admission is free.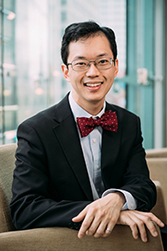 The first half of the program will include "Toccata, op. 7," by Fernando Germani; "Fantasie Choral No. 2," by Percy Whitlock; "Trio No. 5 in D," by Johann Gottfried Vierling; and "Phantasie und Fuge in D, op. 39b," by Sigfrid Karg-Elert. The second half of the program will include "Intermezzo, JA 66," by Jehan Alain; "Lumière (7 Méditations sur le Saint Esprit, op. 6)," by Jeanne Demessieux; "Aux étoiles," by Henri Duparc, transcribed by Tan; and "Final," from "Symphonie No. 5. Opus 42," by Louis Vierne.
Tan has established himself as a leading young artist in North America, and has performed at Hope multiple times, most recently in 2018. Originally from the Philippines and Canada, he is an organist and pianist who enjoys multi-faceted careers as a musician and a materials scientist. He currently serves as organist and director of music at St. Alban's Catholic Church (Ordinariate in Rochester, New York).
He is the only person to have received first-prize in three of the most major North American organ competitions: the Canadian RCCO National Organ Competition; the AGO National Young Artists Competition in Organ Playing (NYACOP); and most recently, in October 2021, the Canadian International Organ Competition.
Tan's primary musical tutelage has been with John Tuttle, David Palmer, Joel Hastings, Martin Jean and David Higgs. He recently received his MM and MMA from Yale University, and is currently pursuing doctoral studies at Eastman School of Music.
Previously he has served as Organ Scholar at St. John's Episcopal Church, Detroit, Michigan; Artist in Residence at the Cathedral Church of St. Paul, Detroit; and Organ Scholar at the Church of the Resurrection, New York City. As a scientist, he holds a Ph.D. in materials science from the University of Michigan and worked there as a postdoctoral researcher after earning his degree, studying polymer thin films.
The recital is made possible through the generous support of the College's Tom Donia Memorial Organ Fund. The fund was created in 1990 by the family and friends of Tom Donia, a 1971 Hope graduate who died in 1990. The director of communications for the American Red Cross, Tom Donia had a lifelong interest in music and loved the pipe organ in particular.
Audience members who need assistance to fully enjoy any event at Hope are encouraged to contact the college's Events and Conferences Office by emailing events@hope.edu or calling 616-395-7222 on weekdays between 9 a.m. and 5 p.m. Updates related to events are posted when available in the individual listings at hope.edu/calendar
The Jack H. Miller Center for Musical Arts is located at 221 Columbia Ave., between Ninth and 10th streets.