De Pree Art Gallery
Percept Upon Percept
James Perrin
February 14–March 12, 2020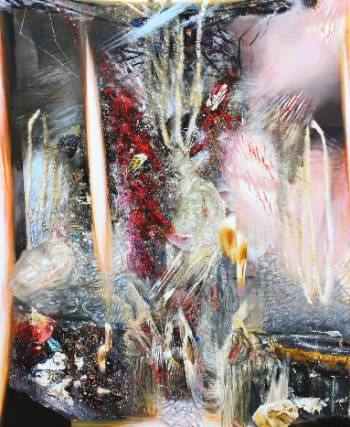 Percept Upon Percept, an exhibition by James Perrin, explores the integration and resolution of disharmonious elements relating to themes in painting and its processes: abstraction and representation, surface and illusion, discord and resolution, chaos and structure. Through the use of imagery derived from varying sources related to his life, Perrin examines these themes and how they relate to, and reflect, human existence.
In describing the exhibition, he says, "Through the intimate formation of the physical surface of a painting, I explore the visual language and emotion that is embodied in a tactile image — an object created by hand, incorporating suggestions of depth and flatness, and various other pictorial elements originating from how we as human beings see and experience real space, objects, matter, life and each other under the influence of time."
Perrin received his MFA in painting from Boston University and his BFA from Kansas City Art Institute. His paintings have been featured in solo and group exhibitions throughout the US, as well as in Venice, Italy. His work was recently included in Chaos and Awe: Painting for the 21st Century at the Frist Art Museum and Chrysler Museum of Art. A group of paintings is currently on view at the South Bend Museum of Art until 2021.
Press release for Percept Upon Percept
Artist Talk
Wednesday, March 11 | 4–5 p.m.
Cook Auditorium, De Pree Art Center and Gallery
Closing Reception
Wednesday, March 11 | 5–6:30 p.m.
De Pree Art Center and Gallery
Gallery Hours
Monday–Saturday:
10 a.m.–5 p.m.
Sunday: 1–5 p.m.
The gallery is handicapped accessible. Admission is free.
De Pree Art Gallery
De Pree Art Center275 Columbia AvenueHolland, MI 49423
workP. 616.395.7500
art@hope.edu