Alumni and Family Engagement
Alumni Weekend
Join us for virtual events and programming to celebrate reunions for both 2020 and 2021 on April 15-17, 2021.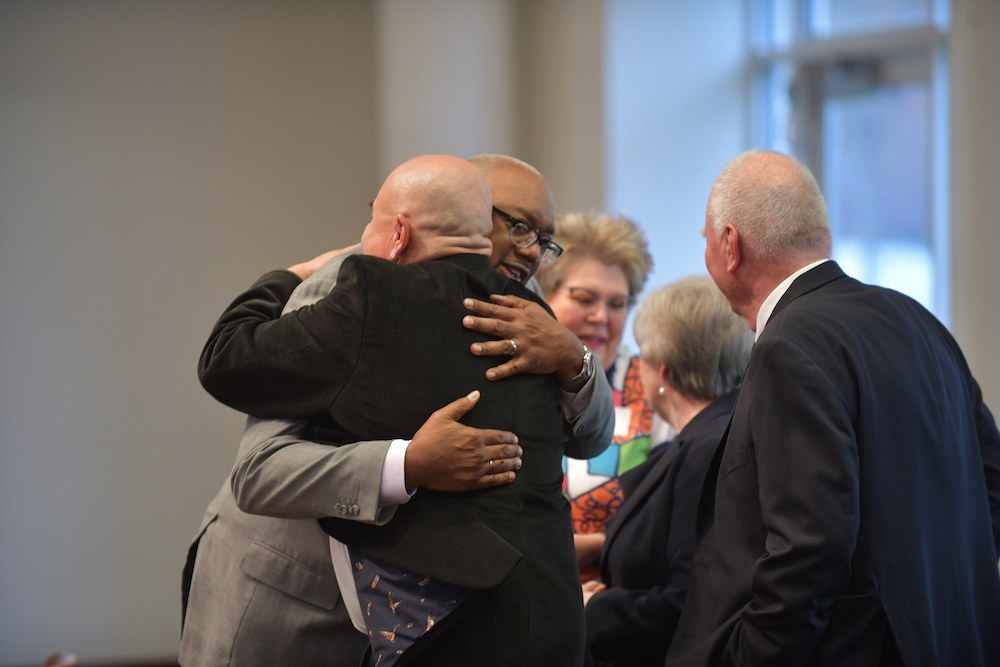 Milestone reunion years are still something to celebrate, despite the challenges of the pandemic. You will have the opportunity to take part in several online experiences April 15-17, 2021 including an exclusive book club event, a Friday lunch and learn, time with President Matt Scogin, and online alumni team trivia. There will also be opportunities to interact in an online scavenger hunt, download Hope themed activities, purchase spirit gear made just for this celebration, and more.
We are excited to recognize the following milestone class years as part of this combined celebration:
50th Reunion: 1970 and 1971
45th Reunion: 1975 and 1976
40th Reunion: 1980 and 1981
35th Reunion: 1985 and 1986
30th Reunion: 1990 and 1991
All events are virtual, Zoom links will be provided the week of the events.
Wednesday, April 14
Distinguished Alumni Award Recipient Webinars
6 p.m. — Lara Plewka '98 MacGregor: "Turning Heartbreak into Hope"
At the age of 30, seven months pregnant and a successful associate vice president, Lara MacGregor was diagnosed with cancer. Fourteen years later, Lara is still fighting Stage IV Metastatic breast cancer after seven years of remission. Lara knows heartbreak — but she also knows hope. In 2012, she founded Hope Scarves, an organization that allows the sharing of stories and scarves among women who are fighting cancer. The Hope Scarves collection, which is constantly evolving, now contains over 15,000 scarves and 1,200 stories. Her organization has raised and donated hundreds of thousands of dollars a year to breast cancer research and Lara has also become a popular blogger, podcast host and speaker. Join us to learn how Lara has faced her personal health heartbreak with a commitment to spreading hope.
7:30 p.m. — Deborah Heydenberg '87 Fuller: "From Plants to Patients: A Scientist's Journey from Hope to Healing"
In a world that has had all eyes on vaccine development in the past year, Dr. Deb Fuller has been wearing many different hats, including professor of microbiology at the University of Washington, co-founder and chief technology officer of Orlance, Inc, and division chief and core scientist at the Washington National Primate Research Center in the AIDS division. In short, she has been on quite a journey from her first experiment on plant cells at Hope College to her current work developing vaccines to fight the spread of disease in humans. Join us for a virtual talk that is equal parts science, Q&A and anecdotes about Dr. Fuller's personal and highly circuitous career path.
Thursday, April 15
Alumni Association Board of Directors Virtual Meeting
Fireside Chat with Doc Hemenway at 7 p.m.
What if books could provide a chance to try another life you could have lived? To see how things would be if you had made other choices? Would you have done anything different? Join iconic Hope Professor Dr. Stephen Hemenway for this interactive chat, based on Hope's first online book club selection The Midnight Library. No need to have read the book to enjoy this event about the choices that go into a life well lived!
Friday, April 16
Alumni Association Board of Directors Virtual Meeting
Chapel at 10:30 a.m.

Lunch and Learn featuring Dr. Fred Johnson III at 12 p.m. — "January 6, 2021: Biopsying America's Democracy & the Way Forward"
On January 6, 2021, the insurrectionist mob that stormed the United States Congress revealed dangerous, festering weaknesses within America's democracy. Driven by rage and blinded by conspiracy theories, the mob's actions proved that an immediate examination was necessary to fully grasp the cancer within the body politic. This presentation will assess extent of the damage and discuss corrective actions to confront and neutralize this clear and present danger.
Saturday, April 17
College Updates from President Matt Scogin at 2 p.m.
Join us online and learn more about what's happening at Hope this semester, as well as the vision for the future of the college.
Hope Online Trivia Night at 5 p.m.
Alumni are encouraged to put their college degrees to good use and join us for a game of online trivia! Feel free to play solo or with the whole family. The more the merrier, as you can look forward to questions on a variety of general knowledge topics. And of course, there will be great Hope-themed prizes for the top three winners!
Alumni and Family Engagement
DeWitt Student Cultural Center141 East 12th StreetFloor 2Holland, MI 49423
workP. 616.395.7250
alumni@hope.edu