Jim and Martie Bultman Student Center
Building Information
115 East 12th Street
Holland
,
MI
49423
The Jim and Martie Bultman Student Center is located in the central campus, adjacent to Hope's Pine Grove. The 42,000-square-foot facility, which opened for the start of the 2017-18 school year, is the college's first dedicated student-center space in more than 35 years.
View photos from the construction of the Bultman Student Center
Check out upcoming events at the Bultman Student Center
Swing Dances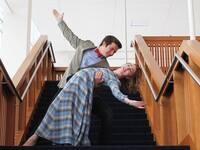 Join Hope College Swing Club for a night of dancing and fun! No experience necessary!
Swing Dances
Date

Location

Jim and Martie Bultman Student Center
Swing Dances
6:45 pm - Jim and Martie Bultman Student Center, Program Area