Library
Student Jobs and Internships
Jobs and internships at the Van Wylen Library and the Joint Archives of Holland provide a valuable opportunity to acquire real life skills and experience that can translate to your résumé.
Library Jobs
Student library employees learn valuable skills desired by community professionals.
Archives Assistant

Circulation Assistant

Digital Media Lab Assistant

Interlibrary Loan Assistant

Library Office/Mending Assistant

Research Help Desk Assistant
Quotes from Student Employees
"Working here has enhanced my curiosity, and this position encourages me to be intentional and diligent." (Ayanna Bailey '23, DML Student Manager)
"Working at the library was one of the best parts of my time at Hope. It was a great way to meet new people, and I learned so many new skills that I'm sure will help me in my future endeavors!" (Lindsey Heidema '22, Circulation Assistant & Weekend Student Supervisor)
"The library offers great student-employee experiences! I loved learning about the different steps in book processing and the inner workings of library systems." (Kallen Mohr '23, Library Office/Mending Assistant)
"I have been working at the Van Wylen Circulation desk for about three years now, and I have enjoyed every second of it. The student workers and Hope staff are all incredibly kind, and education is always encouraged and prioritized. The hours are flexible, and are perfect to fit into any schedule you may have each semester. During my time here, I have learned to love helping people and have gotten to meet all of the wonderful people who attend Hope." (Sarah Theis '23, Circulation Assistant & Weekend Student Supervisor)
"My interest in research piqued after meeting with a librarian during my First Year Seminar and it has only grown since then. Working with our librarians has equipped me with skills to help students, staff, and community members find information on a wide range of topics. One of my favorite things about my job is that I'm able to help patrons while learning about a variety of topics at the same time. Overall the library has been a place for me to explore and aid others with the support of our librarians, it's a place that encourages growth outside of the classroom and is relevant in many aspects of my day to day life." (Saniyah Jordan '23, Research Help Desk Assistant & Student Supervisor)
Library Internships
Library internships are intended for Hope College students contemplating a career in libraries and considering graduate school in library/information science. Hope library interns have had a high rate of acceptance at the best graduate programs.
General Library Internship

Digital Liberal Arts Internship

Art/Art History Internship

Archives Internship
Prior Interns
Recent Van Wylen interns have gone on to be accepted at top-tier library and information science graduate programs and many received assistantships in a very competitive field.
Hannah Jones '21
"I had the opportunity to work as an intern at the Van Wylen Library as part of my Women's and Gender Studies degree. I worked under the guidance of Tori Longfield, Hope College's Assistant Librarian for the Digital Liberal Arts. We met bi-weekly to discuss my internship projects as well as topics in library and information science in preparation for my starting grad school at the University of Illinois at Urbana-Champaign. I worked on two projects, one about collection development and the other about diversifying subject headings."
Hannah's Blog Post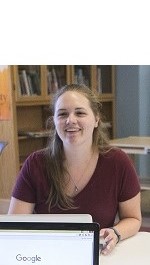 Laurel Post '17
"I was able to work with Jessica [Hronchek] on creating an internship experience that combined my interest of library science and my bachelor degree in Communication. Through the internship I was able to get a taste of what graduate school would be like. The experience helped to prepare me for research, writing and presenting all throughout grad school. It also gave me a little taste of what life as an academic librarian would be." (Laurel is a Metadata Specialist at Uline)