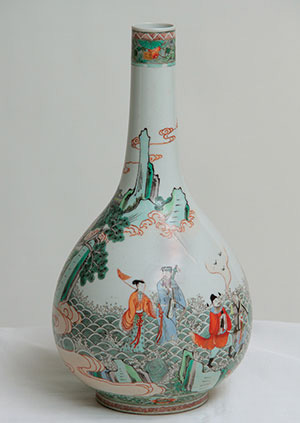 Although the Kruizenga Art Museum hasn't even opened yet, the building has already made a lasting difference at Hope, leading to major contributions to the Permanent Art Collection that will enrich student learning for generations to come.
It's an assortment headlined by more than 500 recently arrived works of art contributed by California residents David Kamansky and Gerald Wheaton. The significant personal collection—Kamansky is a former director of the Pacific Asia Museum in Pasadena—consists primarily of works from across Asia, ranging from the second century to the late 20th, but also from Europe (some from the 16th century) and North America, and thousands of related books and catalogs.
Among others, Hope has also received works of contemporary North American art from Dr. Richard Kruizenga '52 of Dallas, Texas, and Holland, Michigan, who with his late wife Margaret (Feldmann '52) had provided the founding gift for the museum, and is anticipating collections of Ethiopian art from Dr. Neal Sobania '68 of Lakewood, Washington, who is a member of the history faculty at Pacific Lutheran University, and his wife Elizabeth '00; Japanese art from the family of retired missionaries Dr. John and Etta Hesselink of Holland; and European art from Dr. Larry Siedentop '57 of London, England, who is a political philosopher and historian of political thought retired from the faculty of Keble College at the University of Oxford.
All of the works are valued additions, but founding director Charles Mason is particularly pleased by the range of traditions represented by the accessions. They significantly expand the educational value of the Permanent Collection, which previously emphasized 19th- and 20th-century European and American art.
"The museum is not part of the art department, it's its own department, and its mission is to serve the entire campus," Mason said. "So if we have a broader range of art, we're better able to serve the constituencies all across the campus."
"What is very fortuitous about these gifts is that they dovetail very well with the initiative in the new strategic plan to increase global awareness and the global scope of Hope's curriculum and its student body," he said.
The additions also poise the museum to play a leading role regionally and even nationally.
"For example, the Kamansky-Wheaton collection is very rich in Himalayan, Mongolian and Tibetan art, of which there's very, very little in the state of Michigan," Mason said.
"And most of the collections of African art in this country focus on West Africa and a few on South Africa, but not so many on East Africa," he said. "And so the collection of East African art that was put together by Neal Sobania, who is a scholar of these cultures and that area, will be an incredible and distinctive resource."
Mason is eager to see the museum connect with departments in every academic division—not only the arts, but also the humanities, natural and applied sciences, and social sciences—to find ways that the objects, their history and their context can enrich the experience of students campus-wide. One themed exhibition, for example, might include a concert featuring music from the tradition represented. Another might compare and contrast Tibetan and European monastic traditions.
Visitors to the museum will be able to see the vision begin to take shape—and maybe even become inspired to become a part of it—this fall, as the museum dedicates its debut year to highlighting the strength and variety of the Permanent Collection.
"Our goal for the first year is to show the breadth and overall quality of the collection, to give people a sense of the range of material that we have in the collection and how it could potentially be used to support a wide range of academic disciplines," Mason said. "So it's to some extent going to be a kind of 'greatest hits' of the Permanent Collection, but with an eye toward having pieces out that we can use to begin conversations with faculty and students from different academic departments across campus about ways that we could integrate the museum into teaching and learning."
The holistic approach and focus on education were no less important than the museum itself in fostering the latest gifts. Kamansky, for example, had developed the collection he shares with Wheaton (a native of Michigan) across more than 50 years, and noted that they especially appreciate that the works will provide a resource not previously available. They learned about the new museum and its mission through Mason, who had directed the Pacific Asia Museum immediately prior to coming to Hope in 2013.
"Gerald and I like the idea of our art going to a part of Michigan where Asian art in particular is not well represented," Kamansky said.
The fact that Hope was equally interested in the related art library, which went to the Van Wylen Library, was also a major consideration. "The library was formed in conjunction with the art collection, and it is wonderful that students will be able to use the books and catalogs as they are learning about the art," Kamansky said.
That's exactly the plan. "The collection directly supports the art collection given by Mr. Kamansky and Mr. Wheaton both as research materials for the works of art and also by providing background on the history and culture of China, Japan, Tibet, South Asia and other countries," said Kelly Jacobsma, who is the Genevra Thome Begg Dean of Libraries with rank of associate professor.
In the same way, Dr. Sobania's collection includes not only hundreds of objects, ranging from woven baskets to illuminated parchment books to religious icons, but extensive documentation, such as books, photographs and even video showing some of the contemporary artists at work. Dr. Sobania, who prior to joining PLU in 2006 was director of international education and a member of the history faculty at Hope for 25 years, began acquiring pieces while in Ethiopia as a Peace Corps volunteer after graduating from Hope. He has continued to do so across his career, including while co-directing research for an exhibition held at Michigan State University in 1994.
"We were buying things for Michigan State's museum, but at the same time, if there were two objects I would sometimes pick one up for myself," he said. "I know where these pieces were purchased, I know when they were purchased. That makes it rather unusual."
Dr. Sobania likewise values his alma mater's emphasis on bringing the world to life through art and the larger story of which it's a part.
"In my teaching I've sometimes been able to use the actual objects," he said. "For students to actually be able to hold a parchment book and see the guiding pinpricks used by scribes to write in a straight line brings things alive in a way that just reading about it doesn't."
Like all of education, like travel, the experience is broadening, often in unexpected ways. Such as the time a student was struck especially by how Ethiopian depictions of Jesus differed from his own mental image, expanding his appreciation of the diversity within the Christian faith.
"Just little things like that for some students can be earthshaking," Dr. Sobania said.