A continent and three decades away, Dr. Ernest Cole of the Hope College English faculty is still seeking answers on behalf of his younger self, the 10-year-old boy who pondered the meaning of the shots he heard while he enjoyed an otherwise tranquil summer day while growing up in Sierra Leone in 1975.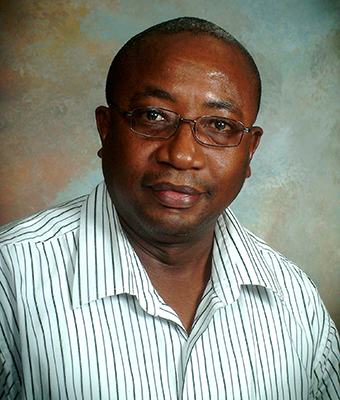 It's a journey that has led this fall to the publication of his latest book, "Space and Trauma in the Writings of Aminatta Forna," by Africa World Press. Forna, who was also a child at the time, has also reflected on the occasion that prompted the gunfire. It took place during the burial of her father, Dr. Mohamed Sorie Forna, a Minister of Finance who had been hanged for treason.
Aminatta Forna, who was raised in both Sierra Leone and the United Kingdom, went on to become a BBC journalist and subsequently investigated her father's death. She found a conspiracy that included false testimony and a wrongful conviction, leading to her first book, a memoir of both her father and Sierra Leone, "The Devil That Danced on the Water" (2003). She has since published three novels: "Ancestor Stones" (2006) and "The Memory of Love" (2010), both set in post-civil-war Sierra Leone; and "The Hired Man" (2013), set in Croatia following the nation's war of independence.
It would be more than 30 years after he heard those gunshots—in 2008, the same year that he joined the Hope faculty—before Cole would connect with Forna's memoir. Across his career, however, informed by his own experience in post-colonial Africa, he has been particularly interested in themes of forgiveness and reconciliation in the wake of conflict. He is a specialist in post-colonial literature with an emphasis on Sub-Saharan Anglophone Africa, India and the Caribbean.
Cole left Sierra Leone during the nation's 1991-2002 civil war, living in The Gambia and teaching at the college level there for a number of years before coming to the United States to complete his doctorate at the University of Connecticut shortly before he began teaching at Hope, where he is an associate professor of English as well as director of global learning. His previous books include "Theorizing the Disfigured Body: Mutilation, Amputation, and Disability Culture in Post-Conflict Sierra Leone" (2014), which explores the practice and aftermath of punitive amputation during the civil war; "Emerging Perspectives on Syl Cheney-Coker" (2014), focused on a writer from Sierra Leone who is concerned with the nation's history and social and political struggles; and "Ousmane Sembene: Writer, Filmmaker, Revolutionary Artist" (2015), focused on "the father of African cinema," who was concerned with neocolonialism and critical of the African leadership which followed western colonial rule.
"Space and Trauma in the Writings of Aminatta Forna" explores themes across Forna's books, although Cole focuses primarily on the work centered on Sierra Leone.
"This study makes the case that Aminatta's works delve into the historical and political landscapes of Sierra Leone and trace the growth and development of the nation from the pre-colonial to post-independence era," Cole said. "Within this trajectory, she engages the legacies of colonialism, post-independence betrayal and disillusionment, political instability, violence and oppression leading to the civil wars of the 1990s."
As he examines her work, Cole is also interested in the connections between space and identity in the context of post-conflict violence and trauma. He notes that the position an individual occupies in a space—at the center or at the margins, included or excluded, in proximity or distant—is linked to that individual's identity, and must be understood if a society is to function and move forward.
As demonstrated in Forna's work, Cole said, societies that have endured trauma must also understand the source of the trauma if they are to move forward.
"Aminatta is saying that every society at some point in its history must have strayed from the straight path," he said. "The essence is to go back and figure out where the wrong turn was made and how it was made. Until we do that, we cannot return to the straight path. And that is a collective responsibility."
Forna's books have been translated into 16 languages, and all four have won or been nominated for awards. She is also an essayist whose work has appeared in Granta, The Guardian, The Observer and Vogue, and she has written for BBC radio and television. She is currently Lannan Visiting Chair of Poetics at Georgetown University, and has also held professorships at Bath Spa University and Williams College.
Cole and a number of his colleagues in the Department of English include Forna's works on their reading lists. Forna also visited campus in February of 2016 through the college's Jack Ridl Visiting Writers Series.
"Space and Trauma in the Writings of Aminatta Forna" will itself be the subject of study in June 2017, featured during a roundtable session of the annual conference of the African Literature Association. Cole will make a presentation based on the book, with responses following from scholars from Drexel University, Georgia College and State University, Kennesaw State University, and Washington and Lee University—and from Forna.
Cole noted that he is exceedingly grateful for the opportunity as his own scholarly travels, begun in part as he and his brother kicked around a soccer ball in 1975, continue. "To have the honor of four scholars responding to my book and the author as well is huge," he said.