Hope College's Elizabeth Perkins has earned Academic All-District honors from the College Sports Information Directors of America for the 2016 season.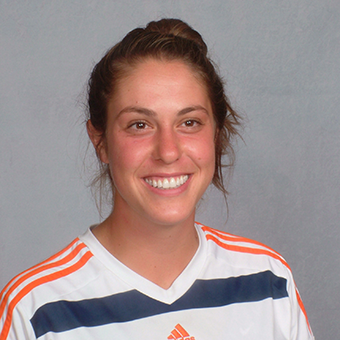 The senior forward from Eaton Rapids, Michigan (Lansing Christian) is now eligible for NCAA Division III Academic All-American consideration. A national committee will vote on this year's women's soccer honorees.
Perkins is one of the top goalscorers in the country while pursuing a double major of psychology and Spanish and a minor in French. She carries a 3.98 grade point average.
Perkins has set two school records this season with 22 goals and 51 points for the Flying Dutch, who are 12-3-2 on the season and contending for a Michigan Intercollegiate Athletic Association championship. She is the first 20-goal scorer in team history.
Perkins has five game-winning goals to go along with a team-high seven assists. As of today, she is ranked third in the nation in goals scored.
Perkins is a three-time member of the MIAA Academic Honor Roll.
Perkins is a two-sport athlete who returns as a key player for the women's basketball team this season.
The Academic All-District™ teams include the student-athletes listed on the following pages and are divided into eight geographic districts across the United States and Canada. This is the sixth year of the expanded Academic All-America® program as CoSIDA moved from recognizing a University Division (Division I) and a College Division (all non-Division I) and has doubled the number of scholar-athletes honored. The expanded teams include NCAA Division I, NCAA Division II and NCAA Division III participants, while the College Division Academic All-America® Team combines NAIA, Canadian and two-year schools.
The Division II and III Academic All-America® program is being financially supported by the NCAA Division II and III national governance structures, to assist CoSIDA with handling the awards fulfillment aspects for the 2016-17 DII and DIII Academic All-America® teams program. First-team Academic All-District™ honorees advance to the CoSIDA Academic All-America® Team ballot, where first-, second- and third-team All-America honorees will be selected later this month.