Hope College softball players Autumn Anderson and Kate Laverty swept weekly honors from the Michigan Intercollegiate Athletic Association for games played through March 27.
The two seniors helped the Flying Dutch win six of eight games during their spring break trip in Clermont, Florida, last week.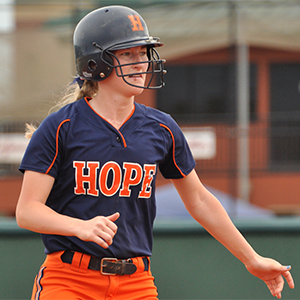 Anderson claimed position player accolades for the third time in her career following an eight-game hitting streak. The leadoff hitter and centerfielder from Dorr, Michigan (Wayland HS) set the tone at the plate with 13 hits, including one in each contest last week.
Two of those hits were triples to help raise Anderson's batting average to .464 for the week and her slugging percentage to .607. Anderson also stole three bases last week. She added three outfield assists to go with 10 putouts on the week for defense.
Laverty won pitcher of the week honors for the first time in her career after a 3-0 record in four starts last week. Her record remains unblemished at 5-0 this season.
In 20 innings of work from the circle, the righthander from Eaton Rapids, Michigan (Eaton Rapids HS) allowed just three earned runs to produce an earned run average of 1.05.
Laverty also fanned 14 batters and allowed only three walks over four starts. She also recorded a single and a stolen base on offense in her final outing of the week.