The Hope College women's track & field team is sending two athletes to the 2017 NCAA Division III Outdoor Track & Field Championships this week in Geneva, Ohio.
Steeplechase runner Erin Herrmann and heptathlete Alison Rich have qualified for the three-day competition at SPIRE Institute near Cleveland that begins on Thursday.

Rich will start the heptathlon on Thursday at 11:30 a.m. The junior from Haslett, Michigan (Haslett) will do the 100-meter hurdles, high jump, shot put and 200-meter dash.

On Friday, Rich will finish the two-day competition with the long jump, javelin and 800 meters beginning at 11:30 a.m.

Rich is seeded 11th out of 22 entrants with a top score of 4,492 points this season.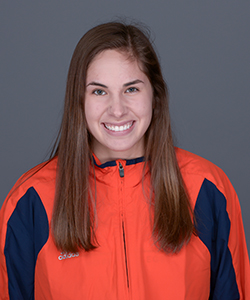 This is Rich's first trip to nationals.

Herrmann will run in the preliminaries for the 3,000-meter steeplechase at 4 p.m. in hopes of advancing to Saturday's 11:30 a.m. final.

Herrmann holds the top seed in the event with the fastest time in the country this season. The senior from Wheaton, Illinois (Wheaton-Warrenville South) posted a Division III-leading and school-record run of 10 minutes, 27.23 seconds at the Hillsdale College Gina Relays on April 29.

Herrmann has qualified for outdoor nationals for the third time in her career. She was national runner-up in the steeplechase last season and finished 18th as a sophomore.

Earlier this school year, Herrmann placed fourth in the nation at the Division III cross country championships and ninth in the 3,000 meters at the Division III indoor track & field championships.