Hope College basketball player Harrison Blackledge and cross country/track & field runner Erin Herrmann have received the Michigan Intercollegiate Athletic Association's highest individual honors for student-athletes.
Blackledge has been chosen recipient of the MIAA's Albert L. Deal Scholar Award, while Herrmann has been named winner of the MIAA's Sheila Wallace Kovalchik Scholar Award.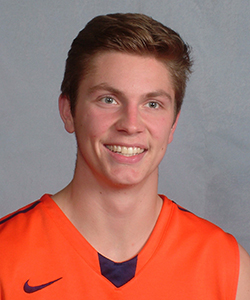 The Deal Scholar Award honors former MIAA Commissioner's Albert L. Deal, who served the conference from 1971-1991. It has recognized since 2004 a senior male from an MIAA member college who has excelled in academics, athletics and displayed outstanding leadership abilities.
The Wallace Kovalchik Award honors former MIAA Commissioner Sheila Wallace Kovalchik, who served the conference from 1991-2002. It has recognized since 2003 a senior female from an MIAA member college who was excelled in academics, athletics and displayed outstanding leadership abilities.
MIAA Commissioner Penny Allen-Cook said the league is honored to select Blackledge and Herrmann for these awards.
"In a field of extremely worthy nominations across the MIAA, Erin's success in competition and in the classroom, as well as her commitment to her community, elevated her to the top of the list. We are proud to have a student-athlete with Erin's character represent the best of the best in the MIAA," Allen-Cook said. "Harrison's leadership over his four-year career in all aspects of the NCAA Division III experience helped him emerge from a field of strong MIAA nominations. Harrison exemplifies the qualities that have come to represent MIAA student-athletes."
This is the first time student-athletes from the same school have claimed both the Deal and Wallace Kovalchik Awards in the same school year.
Blackledge and Herrmann both embody the Division III model because they took advantage of the full spectrum of athletic and academic opportunities available to them at Hope College, co-athletic director Melinda Larson said.
"Harrison made an impact on Hope College and the Holland community through his participation and leadership of a variety of programs that integrated the college's Christian mission into life and sport," Larson said. "He also represented Hope College at an international conference on Sport and Christianity where he presented research on faith and rivalry.
"The most impressive aspect of Erin Herrmann's character is her humility. She has an authentic desire to use her talents to serve others. Erin spearheaded a charge by Hope College students to get involved in helping at-risk youth in the Holland community. She uses the same drive for excellence in her athletic endeavors to learn and work toward excellence in her community."
Blackledge is Hope College's third Deal Scholar Award winner. He joins track & field's Boone Marois (2016) and baseball's Cory Schmidt (2013).
"I am just humbled to even know I was considered with the MIAA's best student-athletes for athletics, academics and leadership qualities. That's an honor in itself," Blackledge said. "It's a cool parting honor for Erin and me - that we were able to leave our mark that way and represent a school we love so much the way we did."
Herrmann is Hope College's third Wallace Kovalchik Award winner. She joins volleyball's Jenna Grasmeyer (2015) and Nora Kuiper (2009).
"I am really honored to be thought of and recognized. There are a lot of really great student-athletes at Hope and in the MIAA," Herrmann said. "The fact I was chosen for this award really means a lot. Thank you to those who nominated for and believed I was worthy of getting this award. I can't thank the whole school and my teammates enough. I wouldn't haven't been to achieve what I have and receive this award if it wasn't for them."
Both Blackledge and Herrmann graduated from Hope College last month after concluding decorated athletic and academic careers.
Blackledge was an All-American this season and recipient of the Jostens Trophy for the top Division III student athlete in men's basketball. He was just the third Flying Dutchmen to score 600 points in a single season.
Herrmann this spring claimed her second individual national title in women's track & field with a first-place performance in the 3,000-meter steeplechase. She is a four-time All-American between track & field and cross country.
Blackledge is headed to graduate school this fall and will pursue a master's degree in marketing at Belmont University.
Herrmann will be student teaching this fall in Denver, Colorado at a school for refugee children.
ADDITIONAL INSIGHTS
Mark Northuis, Head men's and women's cross country coach and assistant track & field coach
"Erin is a student-athlete that emulates the ideals that Sheila represented as Commissioner of the MIAA. She is an outstanding student (8 semesters on the Dean's List and 7-time Academic All-America honors) and accomplished athlete (MIAA Most Valuable Runner of both cross country and Track & Field and NCAA champion). Like Shelia, who fought for the underrepresented sports in the MIAA, Erin has been a champion for the needs of others throughout her collegiate career. She is the only freshman to earn the Dr. Richard Vandervelde Service to Others Award, and as a senior she organized and led a conference on the recognition of and treatment for child abuse. For the past four years Erin has represented Hope College and the MIAA with distinction and is truly deserving of this award."
Kevin Cole, Head men's and women's track & field coach
"Erin has been an incredible asset to our team and our college for the past four years and I can't think of anyone who could possibly be more deserving of this award. She has worked hard on the track and in the classroom and her efforts have paid off in both areas. She is also a great person and a joy to coach. We'll miss having her on the team next year but I'm sure she will continue to be successful in everything she does."
Greg Mitchell, Head men's basketball coach
"Harrison has had such a remarkable career at Hope on the court and in the classroom. This recognition couldn't go to a more deserving recipient. He is a great basketball player, an incredible scholar-athlete and a person who gives and serves. I am proud of how he has represented our program, our college, and his family."