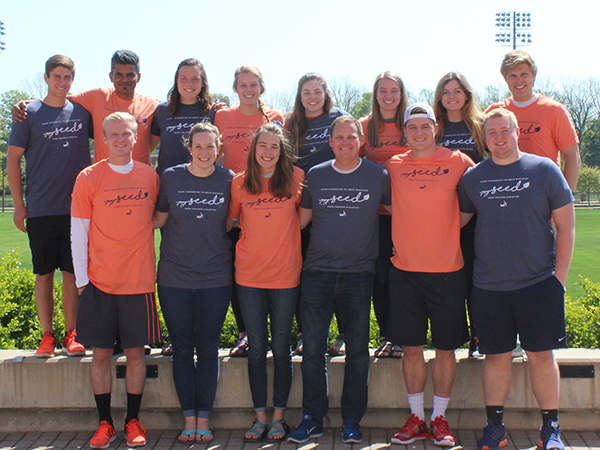 Hope College Athletics is excited to announce the launch of the S.E.E.D. (Sport Evangelism to Equip Disciples) program, a new initiative to provide mission and service minded transformational international trips for student-athletes.
Sport provides an opportunity for athletes to have a significant platform from which to influence others. In traveling with the S.E.E.D. program, Hope College student-athletes will utilize their passion for sport to share the love of Christ with individuals around the world.
S.E.E.D. trips will be focused on relationship building through sport and bringing the good news of Jesus Christ to individuals of under served countries. Each trip also has the opportunity to partner with Sawyer Water Products to bring clean water to the local communities.
Three teams made up of student-athletes and coaches from a number of different sports will kick-off the program during the summer of 2017.
The first group will depart to India on Saturday to partner with Audio Scripture Ministries where they will team up with local churches and communities to run sports camps and distribute water filters.
Team members include:
Hannah Kenny – Women's Cross Country & Track
Ashley Warner – Women's Cross Country & Track
Jacob Pardonnet – Football
Matthew Reitsma – Football
Anders Northuis – Men's Soccer
Ryan Woodside – Men's Soccer
Sarah McCoy – Women's Soccer
Abby Brinks – Women's Swimming
Elizabeth Fris – Women's Swimming
Alli Lindquist – Women's Swimming
Caroline Hannema – S.E.E.D. Program Director
Will Franken – S.E.E.D. Program Intern
Scott Engelsman – Reformed Church in America Liaison

You can follow along with their trip through the team blog.
Two additional trips will launch in August. One team will travel to Costa Rica to partner with Push the Rock and the other team will head to Zambia to work alongside Poetice International.
Further information with ways to follow these trips will be made available at the beginning of August.