The board's new members are: Tish Boerigter, a 1982 graduate from Kalamazoo; Tom Doran, a 1997 graduate from Smyrna, Georgia; Lenora (Norie) Koelbel, a 1964 graduate from Chapala, Mexico; Alec Nelson, a Hope junior from Bon Air, Virginia; and Scott Watson, a 1986 graduate from Indianapolis, Indiana.
Newly elected to serve as president is Bradley Norden, a 2004 graduate from Holland, who was previously secretary. He succeeds Victoria Brunn, a 1984 graduate from Santa Monica, California, who will continue to serve on the board for a year as immediate past-president. Leslie Monday, a 1993 graduate from Kirkland, Washington, succeeds Norden as secretary. Katie Schubert, a 2003 graduate from Frankfort, Illinois, will continue to serve as vice president.
Josh Augustine of Maple Grove, Minnesota, formerly Senior Class Representative, was appointed representative of the most recent graduating class. Victoria Chapman of Canton, formerly Junior Class Representative, was appointed Senior Class Representative.
The board members who have concluded their service are: Alison Claucherty, a 2016 graduate from Haslett; Holly DeYoung, a 1990 graduate from Beaver Dam, Wisconsin; Todd Houtman, a 1990 graduate from Indianapolis; Garry Kempker, a 1974 graduate from Holland; and Juan Carlo Muñoz, a 2000 graduate from Holland.

Boerigter is a marketing director with Spectrum Public Affairs, a bipartisan government relations firm with 20 years of active relationship management between the public and private sectors in Washington, D.C., and Michigan. Through the years she has also held positions in retail management and as a small-business owner in downtown Kalamazoo, in consumer affairs at Upjohn, and as a consultant in consumer affairs and as a member of Kalsec's professional sensory panel.
She was active in the parent groups at Portage Public Schools as her sons grew up. She recently served Hope as a member of the Boerigter Institute Task Force, representing her extended family in developing the institute, which was made possible by a major gift from SoundOff Signal in honor of Founder and Chairman George Boerigter '61 and his wife, Sibilla, who are Tish's parents-in-law.
She majored in business administration and psychology at Hope, where she was a member of the Delta Phi Sorority and participated in cheerleading.
Her husband, Jim, is a 1982 Hope graduate. The younger of their two sons, JP, who is now deceased, had been a student at Hope.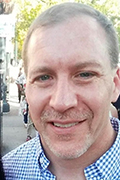 Doran earned an MBA from University of Detroit Mercy and a doctorate in applied economics from Auburn University, and now works as a quantitative risk analyst for SunTrust Bank.
He is a member of the Atlanta Economics Club and the Kansas City Barbeque Society, and volunteers for behavioral health research, doing modeling and analysis for grant applications and contract negotiations. He has been involved over the past eight years with Free the Kids, which funds a home and refuge for orphaned children in Haiti, and is also involved with Manna Fund, a non-profit dedicated to providing hope and financial assistance to individuals who need treatment for eating disorders.
He majored in business administration and Spanish at Hope, where he participated in football and was a member of the Emersonian fraternity.

Koelbel moved to Missoula, Montana, and became a fifth-grade teacher for several years after graduating from Hope. Her strong interest in history led her to write the book "Missoula the Way It Was: A Portrait of an Early Western Town."
She and her husband, John, who is a Hope classmate, subsequently owned a bookstore in Missoula for many years, and she also ran a wholesale children's book business. They are now retired.
The couple moved to Arizona in 2001 and to Chapala in Mexico's central state of Jalisco in 2008. Her activity includes volunteer work for a variety of organizations that serve the local community. She and John have also established an endowed fund at Hope to support international student scholarships.
She majored in English and speech at Hope, where her activities included the Nykerk Cup competition, which she chaired; the Sigma Sigma sorority, of which she was president; and the Pull tug-of-war. She and John met as members of their freshman-year Pull team.
They have two grown children, including Nikole, who is a 1994 Hope graduate and also participated in the Pull.

Nelson is majoring in physics. He participates in collaborative faculty-student research year-round in the college's Microwave Lab, focusing on high-temperature superconductor characterization, as well as thin film analysis using the college's particle accelerator.
His co-curricular activities include Hope College Motorsports (Formula SAE) and serving as a student ambassador. He participated in the Phelps Scholars Program during his freshman year.
Nelson is a 2015 graduate of the Mathematics and Science High School at Clover Hill, and the son of Jeffery and Jennifer Nelson of Bon Air.
Watson is a Licensed Clinical Addictions Counselor and founder of Heartland Intervention LLC. In addition to his private practice, he is an author, speaker, staff therapist and trainer at Solutions EAP, and formerly was an assessment specialist in one of Indiana's busiest emergency rooms. His books include "The Court Report: Stories from the bleachers, fields and penalty boxes of life" and "An Unlikely Journey: Surviving, Celebrating and Coping with Your Life," and he was project manager for "Kiritsis and Me: Enduring 63 Hours at Gunpoint" by former hostage Dick Hall and Lisa Hendrickson.
He majored in communication and political science at Hope, where his co-curricular activities included WTHS. He holds an Ed Cert from Indiana University and a master's degree in counseling and addictions counseling from Indiana Wesleyan University.
He and his wife, Maureen, have two sons.