Hope College Formula Racing has finished 11th in the international Formula SAE Lincoln 2018 competition in Nebraska, out of a field that included 80 teams from throughout the United States and Brazil, Canada, India, Japan and Mexico.
Hope was also the only liberal arts college at the June 20-23 event, which was attended predominantly by technical schools and large universities.
The rankings are in the preliminary overall results posted shortly after the competition's conclusion. The final results featuring detailed analyses of each team's performance are pending.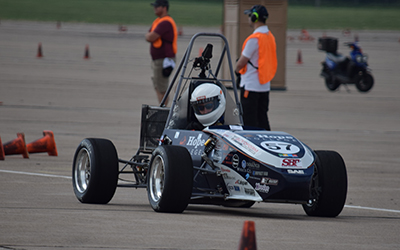 "I'm proud of our students for what they have achieved," said Carl Heideman, who is the team's adviser as well as director of process and innovation at Hope. "Formula SAE is a challenging event and the level of competition is extremely high. We were one of 23 teams that actually finished all the events, and 11th place is such an honor. This is like sending one of our athletic teams to a Division 1 finals."
The students shared an additional sentiment on the Hope program's Facebook page after the event had concluded: "We've been honored to have so many sponsors, friends and mentors support us along the way, and are very happy to have represented them well."
This was the third time that Hope's team participated in a Formula SAE event, and was the first time that the team traveled to Lincoln. Hope had twice previously competed at Michigan International Speedway (MIS), which hosts more entries, finishing 76th out of 102 teams in 2010 and 77th of out 115 teams in 2016. The Hope team won the William C. Mitchell Rookie Award in 2010 for having achieved the highest overall score among first-time teams.
Hope College Formula Racing is a student-run organization. The team spent the past two years developing its car, and will be using its experience in Lincoln to fine-tune in preparation for the larger MIS competition in 2019.
The concept behind Formula SAE is that a fictional manufacturing company has contracted a design team to develop a small Formula-style race car. The prototype car is to be evaluated for its potential as a production item. Each student team designs, builds and tests a prototype based on a series of rules whose purpose is to provide standards while promoting clever problem solving.
The Formula SAE competition is not just a race. Instead, the teams are evaluated in a series of static and dynamic events, including presentation, design, cost analysis, acceleration, cornering ability, maneuverability and handling, fuel economy and endurance.
The international Formula SAE organization provides a variety of design parameters within which the participants must work, but beyond that the teams make their own decisions. Some of the parts are pre-fabricated, like the 600cc Honda motorcycle engine that provides the power. Others — like the frame itself — have been developed by the group, starting with initial concept, and then moving through design and theoretical testing using the computer and ultimately to fabrication and construction.
Approximately 20 students have been involved in Hope College Formula Racing during the past two years. Most of the participants have been engineering majors, but the group is open to any student and other majors have included communication, management and religion. While a significant amount of the work is done by students on their own time and initiative, some of the team members have also chosen to design subsystems for the car through their participation in the college's Engineering Design capstone course, a two-semester sequence which features design teams comprised of senior engineering students.