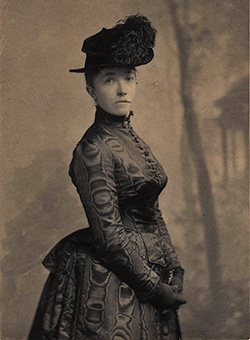 What was the essence of the person who did something that for a woman in 1903 was almost unthinkable: design, build, fill and endow a museum for the public to enjoy in perpetuity? Gardner, who died in 1924 at age 84, didn't leave behind a large collection of diaries or letters, but Dykstra realized that she may have provided something just as revealing.
"I'd long been interested in scrapbooks, albums and other memory-keeping practices of women in the 19th century," she said. "I started to wonder if the museum could be understood, just in part, as a kind of 3-D album. Instead of paging through an album, we walk through the museum's rooms."
Dykstra has spent the past two-and-a-half years finding ways to understand the woman who was, as she states, "certainly one of the most important American collectors, woman or man, at the beginning of the 20th century." Her work will be continuing with support from a highly selective NEH Public Scholar Program award, which will enable her to spend 2019 writing Gardner's life story and doing so by exploring how deeply Gardner is reflected in the museum and its collection.
The grant is one of only 22 Public Scholar Program awards nationwide announced by the NEH on August 8. They are among $43.1 million in grants in a variety of categories for 218 humanities projects around the country.
Dykstra's effort has been aided by Gardner's active role from start to finish in developing the museum. Gardner collected the art and on deciding to build the museum was onsite during its construction, giving directions to workers and requiring that features that didn't meet her standards be redone. She designed the rooms and decided herself where the art would go, and in addition to endowing the museum, her will required that her arrangement of the art could never be changed.
"The Venetian-style palazzo is filled floor to ceiling with the paintings, tapestries, prints, porcelain, rare books, manuscripts and fine furniture collected by its founder, who subscribed to the belief, as the critic Holland Cotter notes, that 'more is more,'" Dykstra said.
"Visitors to the three stories of galleries, which surround a lush courtyard garden, view one of the most important collections of art in America in much the same way as did the museum's first visitors more than a century ago," she said. "Because objects were Gardner's eloquence, I want to focus on specific pieces from her collection to give the reader a feeling for each — its weight and proportion, its place in the archives or, if on display, its relation to other objects in the museum."
Born in New York in 1840, Gardner attended school for a time in France. She met her husband, John "Jack" Gardner, through his sister, and the couple settled in Boston. They hoped to have a family, but endured a stillbirth, the death of their son Jackie at 20 months, a miscarriage and then her doctor's report that she couldn't have children.
"She was devastated by this loss," Dykstra said. "And then, after a time, she got up and did a lot of different things. She traveled with Jack; she started reading Dante; she went to listen to Charles Eliot Norton's lectures on art; she began collecting rare books, which are an important part of her collection; and then she started to collect masterpieces."
"She collected Italian Renaissance masters, such as Titian, Botticelli and Raphael, when many elite Bostonians were collecting painters from the fashionable French Barbizon School," Dykstra said. "She also collected a Vermeer and multiple Rembrandts."
Following Jack's death in 1898, the civic-minded Gardner next devoted herself to sharing her collection.
"She returned from her many overseas adventures to create a world-class art museum in an effort to push her city and country forward onto a larger cultural stage," Dykstra said. "She wanted to provide a way for people without her resources to have an immersive experience with great art akin to what she'd had on her travels, aesthetic encounters that had so pleased and transformed her."
"What's amazing about the museum is that she never told us what it really meant," Dykstra said. "As a visitor, you get to make meaning while you're there, and that's a powerful thing. I'm not trying to provide answers about the meaning of the museum, but I do hope to help readers get a clear sense of its creator."
Dykstra has been a member of the Hope faculty since 2000. She became interested in Gardner while conducting research in Boston for a previous book project, "Clover Adams: A Gilded and Heartbreaking Life," published in 2012 by Houghton Mifflin Harcourt, which will also be publishing her new book. She had also received an NEH fellowship for her work on Clover Adams, as well as grants from the Schlesinger Library and the Massachusetts Historical Society, where she was elected a Fellow in 2011. "Clover Adams: A Gilded and Heartbreaking Life" was named a "Must Read book of 2013 in the 13th Annual Massachusetts Book Awards.
Isabella Stewart Gardner, 1888, photographed by J. Thomson, London. Photograph courtesy of Isabella Stewart Gardner Museum, Boston.