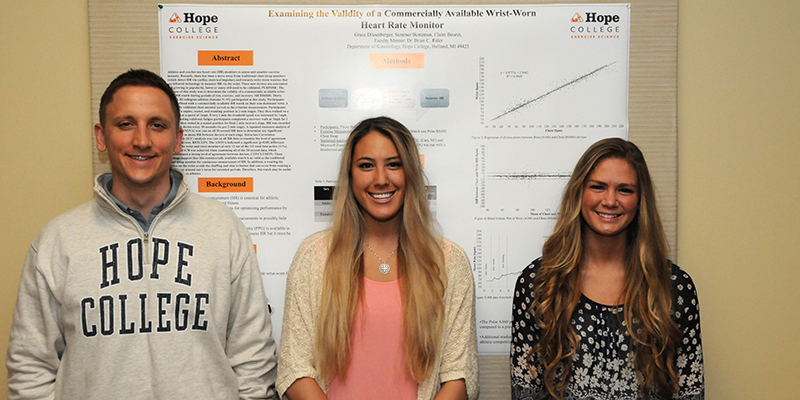 A collaborative faculty-student research project that studied the accuracy of a commercially available, wrist-worn, heart-rate monitor has won Hope College's annual "Social Sciences Young Investigators Award."
The team was led by Dr. Brian Rider, who is an assistant professor of kinesiology and director of the college's Health Dynamics program. The student researchers were senior Summer Besteman and junior Grace Ditzenberger. In addition, 2017 graduate Claire Bouret had also worked on the project as a student.
The study compared the wrist-worn Polar A360 fitness tracker with a previously validated chest monitor. Using a treadmill, the researchers had 30 of the college's student athletes start at rest; then walk and run beginning at 1 mph and increasing speed by 1 mph every two minutes until they couldn't run any faster; and finish at rest. The team found that the commercially available monitor was as accurate as the traditional chest-strap monitor for continuous measurement of heart rate.
Rider's research focuses on activity trackers for exercise as well as people's physiological and perceptual responses to exercise. He is the author of 10 peer-reviewed journal articles, the most recent of which is "Effects of television on enjoyment of exercise in college students." He presented a public seminar based on his research, "The Quantified Self: Wearable Activity Monitors and Behavior Change," during the college's annual Winter Happening program in January.
Rider has been a member of the Hope faculty since 2015. He holds a bachelor's degree in exercise and Spanish from Adrian College, a master's in exercise science from Oakland University and a doctorate in kinesiology from the University of Tennessee.
The "Social Sciences Young Investigators Award" is designed to recognize and encourage junior faculty to partner with students in research collaborations that further the scholarship goals of the faculty member while developing the skills of critical inquiry and analysis in his or her students. It includes funding for the faculty and student team to present the work at a professional conference.
The competition is open to junior social science faculty who worked with students on a significant research project, with at least one of the students returning for the next academic year. The selection is made from among the eligible social science projects highlighted during the college's annual Celebration of Undergraduate Research and Creative Performance, which was held on Friday, April 13, this year.