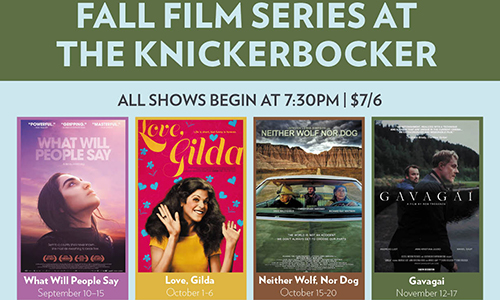 The Hope College Knickerbocker Theatre will continue its tradition of bringing independent and international films to the West Michigan Community with its Fall Film Series opening on Monday, Sept. 10.
The series will feature four films: "What Will People Say," on September 10-15; "Love, Gilda," on October 1-6; "Neither Wolf, Nor Dog," on October 15-20; and "Gavagai," on November 12-17. All films begin at 7:30 p.m.
"What Will People Say" will kick off the series on Monday-Saturday, Sept. 10-15. The drama, based on director Iram Haq's own experiences as a young Pakistani woman in Norway, features 16-year-old Nisha's struggles as she balances life as a regular Norwegian teenager and as a perfect Pakistani daughter. Her two worlds collide when she is caught alone with her boyfriend and her parents send her to live with extended family in a small Pakistan town, forcing Nisha to adapt to a culture that denies her freedoms she once enjoyed. The film is in Norwegian and Urdu with English subtitles and is not rated.
The series will continue with the documentary "Love, Gilda," on Monday-Saturday, Oct. 1-6. The film offers a unique look into the honest and whimsical world of beloved performer Gilda Radner, an original "Saturday Night Live" cast member, weaving together audiotapes, interviews with her friends, rare home movies and diary entries read by modern-day comedians. These never-before-seen or -heard collections allow Gilda to tell her own story, from childhood tales, to her comedy career, to her battle with cancer. All Hope College ticket proceeds from the film will be donated to Gilda's Club in Grand Rapids. The film is not rated.
On Monday-Saturday, Oct. 15-20, the series will dive into the heart of the contemporary Native American landscape with "Neither Wolf, Nor Dog." The drama, adapted from Kent Nerburn's 1994 novel, follows the journey of a white author that is summoned by a Lakota Elder to help him write a book about his perspective on Native American life, past and present. The two, along with the elder's sidekick, embark on a road trip that highlights Lakota country, its history and struggles, and its hopes for the future. The film is not rated.
The series will end with "Gavagai" on Monday-Saturday, Nov. 12-17. The film follows the journey of a German businessman who travels to Norway to finish the translation of some Norwegian poems by Tarjei Vesaas into Chinese, a project of his late wife. A down-on-his-luck tour guide becomes part of the journey after he is hired to show him around. The poetic drama highlights the transforming power of love, limits of language and human need for friendship. The Hollywood Reporter said of the film, "As in the best poetry, each image and every line has the rigor of a well-turned line." The film is not rated.
Tickets for the individual films are $7 for regular admission, and $6 for senior citizens, Hope College faculty and children, and will be available at the door.
The Knickerbocker Theatre is located in downtown Holland at 86 E. Eighth St., between College and Columbia avenues.