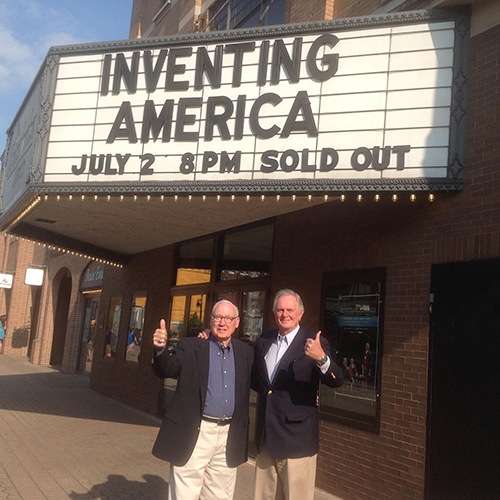 Pictured are Dr. Darell Schregardus '63 and Milt Nieuwsma '63 at the Knickerbocker Theatre, which hosted the premiere of each of "Inventing America's" three episodes.
The final episode of the three-part "Inventing America" series produced at Hope College reached a potential audience of approximately 78 million, according to figures released by TRAC Media Services.
The episode, "Liberty for All: The Untold Story of the Bill of Rights," was distributed to PBS stations nationwide via the National Educational Telecommunications Association (NETA) for broadcast during this year's Fourth of July holiday. It was shown on 79 channels in 20 states across the nation, from Orlando, Florida, and Baltimore in the south and east, to Los Angeles and San Francisco in the west.
NETA had also previously distributed the first two episodes: "Making a Nation," which focused on the Declaration of Independence, in 2016; and "Making a Government," which focused on the United States Constitution, in 2017. "Making a Nation" and "Making a Government" reached 30 million and 62 million potential viewers respectively.
Episode 3 features four of the nation's Founding Fathers — James Madison, Thomas Jefferson, Alexander Hamilton and Patrick Henry — in a TV talk show describing the conflicts and infighting behind the new U.S. Constitution and how that led to the Bill of Rights. The episode features a town hall discussion with Hope students in which the Founders apply the Bill of Rights to the 21st Century. "The program couldn't be more relevant to our time," said executive producer Darell Schregardus, a 1963 Hope graduate.
Created by Holland resident and 1963 Hope graduate Milton Nieuwsma, a two-time Emmy Award winner, "Inventing America" was a co-production of Hope College and WGVU Public Media. All three of the episodes were filmed at Hope by WGVU Public Media in the DeWitt Center main theatre, and all three premiered at the college's Knickerbocker Theatre.
The producer of "Liberty for All: The Untold Story of the Bill of Rights" was Dr. Marc Baer, who is a professor emeritus of history. The director was John K.V. Tammi, professor emeritus of theatre and founding artistic director of the Hope Summer Repertory Theatre (HSRT). Perry Landes, associate professor of theatre, was lighting and sound designer.
Hamilton, Henry, Jefferson and Madison were portrayed respectively by Hal Bidlack, Richard Schumann, Bill Barker and John Douglas Hall. The moderator was Dr. Fred L. Johnson III, associate professor of history. Johnson and Hope students posed the inquiries during the episode's question-and-answer segment.
"Liberty for All: The Untold Story of the Bill of Rights" is available for viewing.