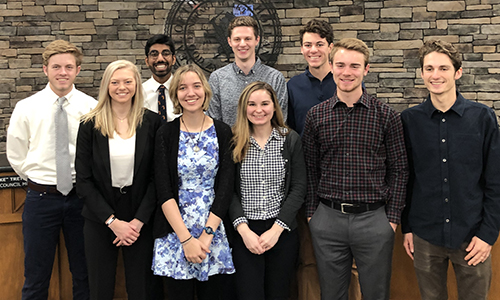 Multiple student and faculty researchers from Hope whose work has focused on the area's environmental health presented reports during the 2019 annual meeting of the Macatawa Area Coordinating Council's Macatawa Watershed Project, held on Thursday, Dec. 5, at Holland City Hall.
The five reports shared on-going faculty-student collaborative research as well as course-based student research projects. The topics included the presence of pollutants in rainwater; the impact of light pollution on the night sky; the presence of heavy metals in fish in Lake Macatawa; cyclical implications for monitoring the Macatawa Watershed; and litter and microplastics on local Lake Michigan beaches.
The reports and presenters were:
"Reconnaissance of Rainwater: Composition in the Holland Area in Relation to Wind Directions During Rain Events," by students Evan Bright and Chelsea Moore, a project they conducted this semester during Geology 401, "Advanced Environmental Seminar";
"Measurement of Light Pollution at 10 Holland Area Sites Using Night Sky Photography and ImageJ Counting Software," by students Alec Berrodin, Amy Olgers and Daniel Wade, which they also conducted this semester during the "Advanced Environmental Seminar" course;
"Analysis of Heavy Metals in Ictalurus punctatus (channel catfish) and Perca flavescens (yellow perch) in Lake Macatawa," collaborative research led by Dr. Jonathan Peterson, who is the Lavern '39 and Betty DePree '41 Van Kley Professor of Geology and Environmental Science, who presented along with student researchers Ashish Duvvuru, Eli Kane, Josiah Peterson and Ashley Wrobel. The work was also conducted with student Jonas Peterson;
"Cyclical Patterns within the Macatawa Watershed: Implications for Monitoring," reflecting collaborative research led by Dr. Aaron Best, who is the Harrison C. and Mary L. Visscher Professor of Genetics and department chair, that has included work conducted across the past three years by the students enrolled in the year-long "Day1: Watershed" residence-hall-based research-course program for freshmen;
and "Wrack and Ruin: Litter and microplastics of four Holland-area beaches," collaborative research led and presented by Dr. Brian Bodenbender, who is a professor of geology and environmental science, and department chair, and co-authored by students Amy Olgers and Ang Vaiana based on work this past summer. Chelsea Moore and Amy Olgers had also worked on the project with Bodenbender in the summer of 2018.
Also during the Dec. 5 meeting, Maggie Oudsema of the Grand Valley State University Robert B. Annis Water Resources Institute provided an update on Project Clarity wetland and lake monitoring, and the Macatawa Watershed Project presented its Stakeholder of the Year award to the Ottawa Conservation District. The college's "Day1: Watershed" program had received the award in 2017.
Student teams in the "Advanced Environmental Seminar" taught by the Department of Geological and Environmental Sciences have been making presentations during the annual meeting for more than 20 years based on research projects that they have devised and pursued. This year's two student presentations will be posted in the future on the Macatawa Area Coordinating Council's website, where previous projects are also archived.
Pictured above are the Hope students who made research presentations during the 2019 Annual Meeting of the Macatawa Watershed Project on Thursday, Dec. 5, at Holland City Hall. Front Row: Ashley Wrobel, Amy Olgers, Chelsea Moore, Josiah Peterson and Evan Bright; Back Row: Eli Kane, Ashish Duvvuru, Daniel Wade and Alec Berrodin. The research presenters at the event also included faculty members Dr. Aaron Best, Dr. Brian Bodenbender and Dr. Jonathan Peterson.