The Hope College Board of Trustees has appointed seven new members.
Newly elected to serve four-year terms are Victoria A. Brunn of Santa Monica, California; Tommy Gordon of Chicago, Illinois; Timothy J. Long of Ada; Jim B. McFarlin III of Champaign, Illinois; Leslie D. Monday of Kirkland, Washington; Carol Van Andel of Ada; and Dr. Matthew C. Wixson of Ann Arbor.
Trustees concluding service on the board are Mary Bauman of Grand Rapids; the Rev. Grace Claus of Seattle, Washington; David B. Charnin of Greenwich, Connecticut; J. Lindsey Dood of Interlochen; Lisa C. Granger of Lansing; Monica Newendorp of Pella, Iowa; Dr. A. Paul Schaap of Grosse Pointe Park; and the Rev. Scott D. Van Oostendorp of Zeeland.
Karl Droppers of Holland, who was re-elected to a second four-year term on the board, is continuing to serve as chair, and Nancy Dirkse DeWitt of Cincinnati, Ohio, is continuing to serve as secretary. Suzanne L. Shier of Chicago, Illinois, has been elected vice-chair, succeeding Timothy VandeBunte of Holland, whose term in the office concluded.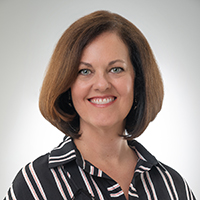 Brunn has been senior counsel in the Development, Regulatory, Contracting and Operations group of Amgen Inc. since 2007. A 1984 Hope graduate, she completed a Master of Science degree in child development at the University of California-Davis in 1988, and a juris doctor degree at Loyola Law School in 2004.
Her career experience has also included serving as a senior child life specialist at UCI Medical Center in Orange, California; as coordinator of child life services at Cedars-Sinai Medical Center in Los Angeles, California; and as an attorney with K&R Law Group LLP and with Sedgwick, Detert, Moran & Arnold LLP.
She was a member of the Hope College Alumni Association Board of Directors from 2011 through 2018, serving as president for two years. She established the Teresa Emeline Brunn Psychology Fund at the college in 2012.
Among other community service and involvement, she provided pro-bono services for Public Counsel during 2006-07 and is a past vice president and member of the board of directors of the Starlight Children's Foundation. She grew up in the Reformed Church in America, and today is actively involved in First Congregational Church of Los Angeles.
She majored in psychology and minored in economics at Hope, where her activities included the Alpha Gamma Phi sorority, Nykerk Cup competition, the "Anchor" student newspaper, Fellowship of Christian Athletes and pep band.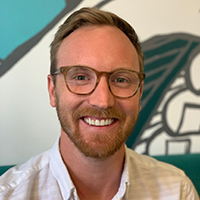 Gordon has worked in sales, development and strategy for 13 years, in both the non-profit and for-profit sectors.
He is currently the director of partnerships and pipeline at Relish Works. Established in 2017, Relish Works is the innovation hub of Gordon Food Service, one of the largest food distribution companies in North America. He was previously a sales associate and customer-development specialist with Gordon Food Service.
Prior to his work in innovation and food service, he worked in marketing, strategy and corporate development for nonprofits. His roles included serving as a marketing and education specialist with the Northeast Denver Housing Center, resource development and marketing coordinator with the Colorado Coalition for the Homeless, and development officer with Water For People.
Gordon is a 2008 graduate of Hope, where he majored in communication. His activities as a student included studying off-campus in Spain, the Emersonian fraternity, the Pull tug-of-war, and the student-organized Dance Marathon fund-raiser held on behalf of Helen DeVos Children's Hospital.
He is the second generation of his family to serve on the college's Board of Trustees: His father, Dan Gordon, was a member of the board from 2010 to 2018. In addition, his father and mother, Marguerite, were members of the Hope College Parents Council.
Growing up in Holland, Long attended Hope for two years, where he was a Baker Scholar and basketball player. He completed his undergraduate degree at the University of Michigan-Ross School of Business in 1987. He earned his MBA Summa Cum Laude from St. John's University in New York in 1993, and holds Certified Investment Management Analyst (CIMA®). CIMA® is a registered service mark of the Investment Management Consultants Association dba Investments and Wealth Institute. Prior to joining Merrill Lynch in 1994, he had worked with Mobil Oil on the East Coast.
Long is a Wealth Management Advisor, Managing Director and Global Institutional Consultant at Merrill Lynch. He has been recognized for professional excellence by Barron's, Forbes Magazine and The Financial Times.
Long's volunteer and board experience has included serving as co-chair of the Van Andel Institute Board of Governors, as president of the Ada Christian Schools Education Foundation, on the Board of the MetroHealth Hospital Foundation and as a trustee of the International Christian Schools Pension Fund.
His church activities include being an active attendee of St. Robert's, Ada Bible Church and Camp Geneva. Additionally, he and his wife, Kim, recently established the Timothy J. and Kimberly S. Long Endowed Scholarship Fund.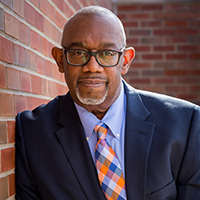 McFarlin is an award-winning author and freelance journalist with extensive newspaper and media-relations experience.
A 1974 Hope graduate, he began his career at The Grand Rapids Press; was next with The Flint Journal, where he won an Associated Press award as an investigative reporter; and was subsequently at The Detroit News from 1979 to 1995, serving as pop music critic, radio columnist and eventually the paper's television critic. He was one of the first people of color in America to cover contemporary music for a major daily newspaper, and one of the first African Americans to cover television for a mainstream media outlet.
After leaving newspapers, he worked as a radio and television host and voice talent, and spent five years as editorial supervisor at Campbell-Ewald Advertising. Most recently, he has pursued a variety of projects as a freelance writer. His work has appeared in publications such as People, Life, USA Today, Electronic Media, Black Enterprise, Men's Book Chicago and Drive, the national Subaru owner's magazine.
McFarlin has launched five magazines and has written or edited more than a dozen books; the latest, "The Booster," a never-before-told story of the University of Michigan's "Fab Five," was published last year. He also maintains two blogs, the award-winning "JK — Just Kidneying," chronicling his experience as a kidney transplant recipient and advocate for renal awareness and organ donation; and "Big Glowing Box," continuing his interest in pop-culture criticism and commentary.
He is active in his church and serves as an ordained wedding officiant. The onetime ESRD (End-Stage Renal Disease) patient representative for the state of Illinois, he is active in a wide range of kidney and transplant focused organizations statewide and nationally, and won the 2011 Robert Felter Memorial Award from The Renal Network Inc. for his communication efforts on behalf of kidney patients.
McFarlin majored in communication and minored in theatre at Hope, where he participated in the Cosmopolitan Fraternity, Pull tug-of-war, track and field, and the student newspaper and radio station. He has continued to be active in the life of the college, including as a member of the Hope College Alumni Association Board of Directors from 2008 to 2014. Hope honored him with a Distinguished Alumni Award this past May.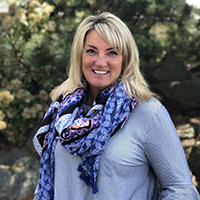 Monday is an active volunteer in her community, including with local schools (her sons will be a freshman and senior in high school this coming year); numerous non-profits; and her church, BelPres, where she was a deacon and helps lead a Bible study called Women at the Well. A breast-cancer survivor, she is an annual supporter and advocate for the Susan G. Komen Walk for the Cure. She previously worked in human resources with Prince Corporation (now Johnson Controls).
A 1993 Hope graduate, she was a member of the Hope College Alumni Association Board of Directors from 2012 to 2018, serving as secretary, hosting student groups in her area and working with the Hope College Bookstore on recent changes. She and her husband, Marc, who is a 1992 Hope graduate, have also volunteered on behalf of the college in a variety of other ways, including hosting regional events, participating in the admissions alumni-calling program, serving as Class Representatives, and assisting the Boerigter Center for Calling and Career.
Monday majored in language arts and education at Hope. Her co-curricular activities included the Delta Phi Sorority, the Pull tug-of-war, the Nykerk Cup competition and the "Opus" literary magazine.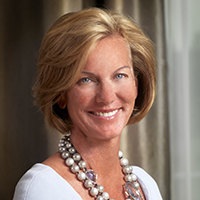 Van Andel is committed to community service, with a particular interest in education, children's issues, arts and health, and human services, and has held volunteer roles with more than a dozen nonprofit organization.
She is the executive director of the David and Carol Van Andel Family Foundation, as well as a member of the Van Andel Education Institute Advisory Council, and the Board of Trustees at Western Theological Seminary and the Grand Rapids Public Museum Foundation. She is a past board member of the Davenport University Governing Board, the YMCA of Greater Grand Rapids, Wedgewood Christian Services, Ada Christian School Education Foundation, Bethany Christian Services, Christian Schools International Foundation, Hospice Foundation of Greater Grand Rapids, Michigan Council for Arts and Cultural Affairs, Pine Rest Foundation, Operation Smile, Frederik Meijer Gardens & Sculpture Park, Opera Grand Rapids, the Grand Action Committee, the Grand Valley University Foundation Board and many more.
She graduated from Hope in 1981 with a business degree. She and her husband, David, who is a 1983 Hope graduate, were among the co-chairs of the college's successful "A Greater Hope" comprehensive campaign, which concluded in 2015. Among other support of the college, they provided a lead gift through their foundation for the Van Andel Soccer Stadium, which opened in the fall of 2009.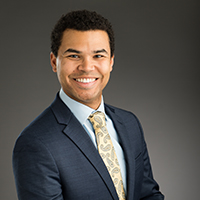 Wixson completed his M.D. in 2012 at the University of Michigan Medical School (UMMS). He then completed a residency in anesthesiology and a fellowship in acute and chronic pain management, also at the University of Michigan. He is currently a physician with Michigan Medicine (formerly the University of Michigan Health System). He has served as a prospective resident student interviewer and on the education and admissions committees with the University of Michigan Department of Anesthesiology Residency Program, and has conducted research and made academic presentations in Ann Arbor, New Orleans, Chicago and Puerto Vallarta, to name a few. He also holds several leadership roles within medical student education at UMMS. He is a past president of the professional medical association Alpha Omega Alpha-University of Michigan Chapter, and is also a member of the American Society of Anesthesiologists.
A 2008 Hope graduate, he has been a member of the Hope College Alumni Association Board of Directors since 2015.
Wixson majored in biology at Hope. His extensive co-curricular participation as a student included serving as president of Mortar Board, playing keyboard in the Chapel Band, being involved with Dance Marathon for four years, serving as a resident assistant and admissions tour guide, and volunteering at Holland Hospital.