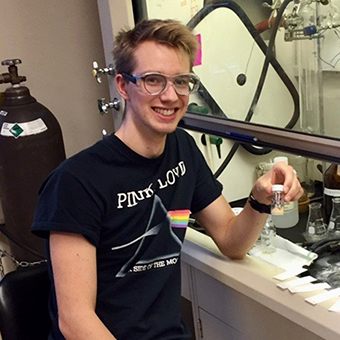 Hope College junior Jacob VanderRoest of South Haven has received a highly competitive scholarship from the Barry Goldwater Scholarship and Excellence in Education Foundation.
A total of 396 scholarships were awarded by the Board of Trustees of the Barry Goldwater Scholarship and Excellence in Education Foundation, in partnership with the Department of Defense National Defense Education Programs, to undergraduate sophomores and juniors across the United States. The Goldwater Scholars were selected on the basis of academic merit from among 1,343 natural science, engineering and mathematics students who were nominated by 461 academic institutions out of an estimated pool of more than 5,000 students.
The scholarships are for one or two years, depending on the recipient's year in school, and cover the cost of tuition, mandatory fees, books, and room and board up to a maximum of $7,500 per year. Numerous Hope students have received scholarships through the years, including several across the past decade.
VanderRoest is majoring in chemistry. His career goal is to pursue a doctorate in green chemistry and conduct chemical research aimed towards sustainability.
During his freshman and sophomore years, he conducted research in the laboratory of Dr. Jonathan Peterson, who is the Lavern '39 and Betty DePree '41 Van Kley Professor of Geology and Environmental Science. The project analyzed the presence of heavy metals in global drinking water sources and examined particle settling via spectroscopic methods.
Since the summer following his sophomore year, he has been working in the laboratory of Dr. Jeffrey Johnson, professor of chemistry. The team has been investigating rhodium-catalyzed carbon-carbon bond activation with the goal of new reaction development.
In 2018, VanderRoest presented his research conducted with Peterson during the annual national meeting of the Geological Society of America. In 2019, he presented his research conducted with Johnson during the Midstates Undergraduate Research Symposium at the University of Chicago, the Undergraduate Research Appreciation and Networking Event at the University of Michigan, and the 46th National Organic Chemistry Symposium at Indiana University.
In addition to participating in research, he is an intern for the Hope Advocates for Sustainability organization, through which he collaborated with Hope Dining Services to promote more environmentally friendly, plant-based diets; a teaching assistant for organic chemistry labs, also working in the organic chemistry stockroom; and a member of the men's cross country and track and field teams. He is also an avid hiker and backpacker, and attempts to listen to at least one new music album daily. He is a 2017 graduate of Saugatuck High School.
The Goldwater Foundation is a federally endowed agency established by Public Law 99-661 on November 14, 1986. The Scholarship Program honoring Senator Barry Goldwater was designed to foster and encourage outstanding students to pursue research careers in the fields of the natural sciences, engineering, and mathematics. The Goldwater Scholarship is the preeminent undergraduate award of its type in these fields. Since its first award in 1989, the foundation has bestowed 9,047 scholarships totaling more than $71 million.