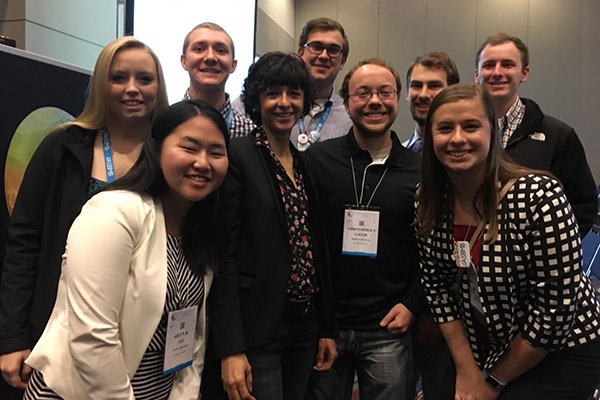 Hope students not only participate in collaborative research with faculty mentors, but often attend — and make presentations at — national and international conferences that provide a chance to engage with professionals from around the world. Sometimes that even means meeting a Nobel Prize winner.
Hope research students attending the annual meeting of the American Society for Biochemistry and Molecular Biology in April 2017 had the opportunity to meet future Nobel Prize Laureate Dr. Emmanuelle Charpentier and hear her discuss the work for which she won this year's award in chemistry.
Charpentier, who is director of the Max Planck Unit for the Science of Pathogens in Berlin, Germany, is one of two scientists to share this year's prize (announced on Wednesday, Oct. 7) for the development of a method for genome editing. Her talk at the 2017 ASBMB meeting was "The Bacterial CRISPR-Cas9 System: A Game Changer in Genome Engineering."
Pictured with Charpentier, who is in the center of the middle row, are: Front Row, Sieun Ruth Lee '18 and Lauren Kennington '17; Middle Row, Morgan Glover '17 and Christopher Gager '17; Back Row, Kevin Franz '18, Ross Nickels '17, Mark Cunningham '17 and Joel Karsten '20.