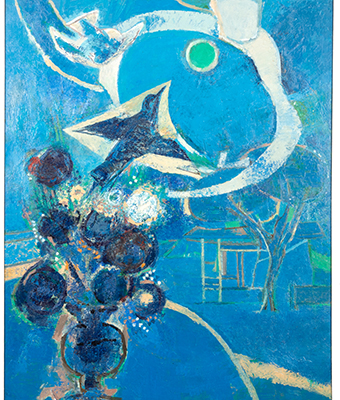 A new exhibition, "Color, Texture, Form: Modern European and American Art from the Brummel Collection," will open at the Hope College Kruizenga Art Museum on Friday, Sept. 10, and run through Saturday, Dec. 11. The museum will host a reception to celebrate the exhibition on Friday, Sept. 24, from 5 p.m. to 7 p.m.
The public is invite to both the exhibition and the reception. Admission is free.
"Color, Texture, Form" wlll feature a selection of 62 paintings, drawings, prints and sculptures drawn from the collection of Hope College Class of 1957 alumnus Mike Brummel. Most of the pieces were created by artists active in the cities of New York and Paris during the middle decades of the 20th century. The display will include both representational and abstract artwork, and will feature a special selection of works by the French artist Françoise Gilot, once famous as a romantic partner of Pablo Picasso who went on to establish her own distinctive niche in the history of modern art.
"The Brummel collection is incredibly diverse in terms of styles, subjects and materials," explains Charles Mason, director and Margaret Feldmann Kruizenga Curator of the Kruizenga Art Museum. "What unifies the artworks is Mike Brummel's lifelong interest in the interplay of three aesthetic qualities — color, texture and form — which I think reflects his own artistic career as an important textile and wallpaper designer. The exhibition is arranged to give visitors a sense of some of the ways modern art evolved in New York and Paris between the 1920s and the 1980s, but it also provides a fascinating glimpse into the personality of the collector."
Brummel is a West Michigan native who majored in biology at Hope College before moving to New York City to study design at the Pratt Institute. He completed his studies at Pratt in 1960 and began an illustrious 50-year career designing and producing high-end textiles and wallpapers for the two companies he founded: Kirk Brummel and Raintree Designs. Brummel's business career required him to travel frequently around the United States and Europe, exposing him to a broad range of cultural influences and allowing him to build an extensive art collection. According to Brummel, his objective in collecting was never to assemble a representative selection of artworks illustrating particular schools, styles or subjects. Rather, he is drawn to artworks that engage him aesthetically and emotionally, and that he wants to have surrounding him in his daily life.
"Mike's collection is anything but static," says Mason. "The walls of his house and apartment are covered floor to ceiling with works of art, and he frequently moves things around looking for new aesthetic connections. This exhibition recombines the artworks once again and provides an opportunity for museum visitors to find the pieces that especially resonate with them."
The Kruizenga Art Museum is located at 271 Columbia Ave., between 10th and 13th streets. Public visiting hours are Tuesdays through Saturdays from 10 a.m. to 4 p.m. Admission to the museum is always free.
The Kruizenga Art Museum functions as an educational resource for Hope College and the greater West Michigan community. The museum features two public galleries as well as a study room and climate-controlled storage space for its 7,000-object permanent collection. It is named in honor of a leadership gift from the late Dr. Richard and Margaret Kruizenga, both of whom graduated from Hope in 1952. Please visit hope.edu/kam for additional information about the museum.
IMAGE CAPTION:
Bird and Blue Flowers (L'oiseau et les fleurs bleues)
Françoise Gilot (French, born 1921)
Ca. early 1960s
Oil on canvas
Loan from the M.L. Brummel Collection