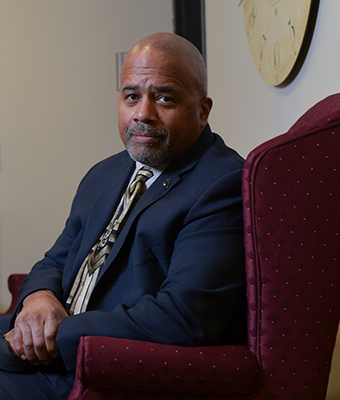 Dr. Fred Johnson, professor of history at Hope College, has been appointed to the college's Guy Vander Jagt '53 Endowed Professorship.
The Guy Vander Jagt '53 Endowed Professorship was established in the early 1980s by friends of Vander Jagt in appreciation for his leadership in the U.S. House of Representatives, and is held by a distinguished faculty member, preferably one who has a special interest in oratory or the interface between politics and communication. Vander Jagt, who died in June 2007, served in the House from 1966 to 1993, representing West Michigan, and chaired the National Republican Congressional Committee for 18 years. A 1953 Hope graduate, he won national acclaim as an orator both during and following his time as a student. Johnson's appointment to the professorship is for a five-year term beginning with the 2023-24 school year.
Johnson joined the Hope faculty in the fall of 2000. His primary field is 19th century U.S. history, specifically the Civil War. His other areas of study include the U.S. in the 20th century, the U.S. military, foreign policy and African history. He is an award-winning public speaker, a member of Toastmasters International and the National Speakers Association. He has advanced to the semifinal rounds of the Toastmasters World Series of Public Speaking competition eight times, placing him among the 100 best speakers in the global organization, taking second place in 2017 and 2018.
In November 2019, the Elizabeth Schuyler Hamilton chapter of the Daughters of the American Revolution presented him with the DAR Medal of Honor. The award is the DAR's most prestigious, and is given to an adult man or woman who is a U.S. citizen by birth and has shown extraordinary qualities of leadership, trustworthiness, service and patriotism.
Johnson's publications include the book "Tupac Shakur: The Life and Times of an American Icon," which he co-wrote with Tayannah Lee McQuillar, as well as a book chapter in "The United States and West Africa," numerous book reviews, scholarly articles and articles for a general audience. His current scholarly book project is "Robert E. Lee's Priority Target: the Baltimore & Ohio Railroad." Johnson's 2004 documentary "The Klan in Michigan, Part I: Reconstruction," which he created with former Hope communication professor Dr. David Schock, won a State History Award from the Historical Society of Michigan in 2005.
For the three-part series "Inventing America," he participated in all of the episodes, the last two as the host. The series was filmed at Hope by WGVU Public Media and broadcast on PBS stations nationwide.
In addition to his scholarly work, Johnson is the author of three novels: "Bittersweet," "A Man Finds His Way" and "Other Men's Wives."
During the college's Homecoming Weekend in 2002 in 2013, Hope's students elected him recipient of the "Faculty Appreciation Award"; in 2005 the graduating class presented him with the 41st annual "Hope Outstanding Professor Educator" (H.O.P.E.) Award; and in 2013 he received the college's Ruth and John Reed Faculty Achievement Award. Among other activity on campus through the years, he delivered the Commencement address in 2003; spoke through the "Last Lecture Series" organized by the college's chapter of Mortar Board in 2010 and 2021; and delivered the college's Opening Convocation address in 2018.
He also served as one of two faculty representatives on Hope College's Board of Trustees; is a past member of the board for Latin Americans United for Progress; and is currently serving on the boards for Habitat for Humanity of Kent County and Western Theological Seminary.
Johnson received his bachelor's degree from Bowie State College in Maryland in 1981; his master's and doctorate from Kent State University in Ohio in 1993 and 1999, respectively; and, in 2015, a Master of Divinity degree from Western Theological Seminary. His past career experiences include serving as a corporate trainer for Aircraft Braking Systems Corporation in Akron, Ohio; an operations specialist for Contel-Page Telecommunications in Fairfax, Virginia; a parts expediter-production scheduler for Packard Electric Division of GM in Warren, Ohio; and as a communications-electronics officer in the United States Marine Corps.