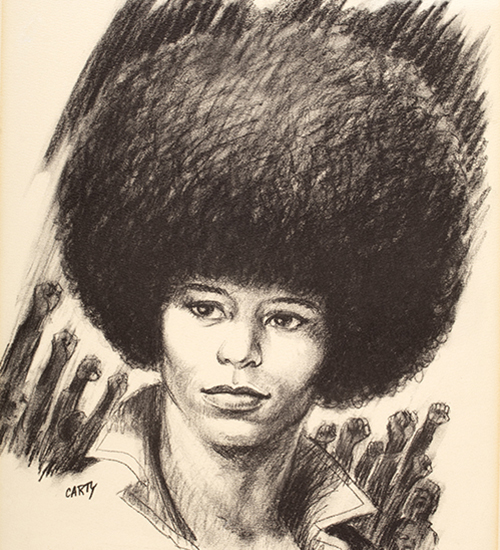 In celebration of national Black History Month, Hope College's Black Student Union (BSU), working with the staff of the Kruizenga Art Museum, has curated a special focus exhibition.
"Black History Month: Honoring Experience from Past and Present" features artworks commemorating historical and contemporary Black leaders and heroes who fought for equality and justice, and who continue that fight today. Featured alongside the artworks is a brief statement prepared by BSU on the theme of the exhibition. The exhibition opened on Tuesday, Jan. 14, and will run through Saturday, Feb. 26.
BSU will also co-host a talent night alongside Hope's Pan African Student Association (PASA) at the Kruizenga Art Museum on Friday, Feb. 18, from 7 p.m. to 9 p.m. The event will be held among the Black History Month artworks in the KAM gallery space.
The public is invited to the exhibition and talent night. Admission is free.
BSU facilitates interaction and heightens awareness of African American history and culture within the Hope College and Holland communities. It works to unite the community by providing educational experiences through speakers, dialogues and social functions.
The mission of the PASA is to promote the political, social, economic and cultural welfare of PASA students in the Hope College community. PASA fosters a collaborative dialogue and relationship with the administration of Hope College and the greater Hope College community.
The Kruizenga Art Museum is located at 271 Columbia Ave., between 10th and 13th streets. Public visiting hours are Tuesdays through Saturdays from 10 a.m. to 4 p.m. Admission to the museum is always free. Please check the museum's website hope.edu/kam or social media for additional information about special programs and events related to exhibitions at the museum.
The Kruizenga Art Museum functions as an educational resource for Hope College and the greater West Michigan community. The museum features two public galleries as well as a study room and climate-controlled storage space for its 7,000-object permanent collection. It is named in honor of a leadership gift from the late Dr. Richard and Margaret Kruizenga of Holland, both of whom graduated from Hope in 1952.
Due to the ongoing global COVID-19 pandemic, Hope is currently requiring that masks be worn by all individuals while indoors on campus unless in their living space or alone in their work space.