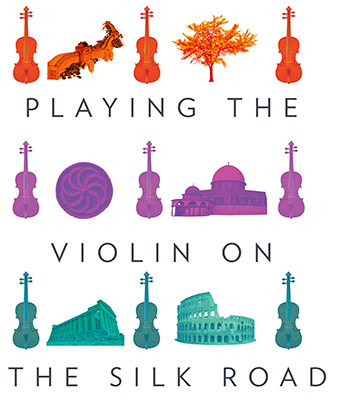 The Hope College Department of Music will present "Playing the Violin on the Silk Road" on Sunday, Oct. 30, at 4 p.m. in the Concert Hall of the Jack H. Miller Center for Musical Arts.
The public is invited. Admission is free.
Hosted by violinist and music faculty member Mihai Craioveanu, "Playing the Violin on the Silk Road" will feature guests from Japan, Greece, New York City and Chicago. Japanese koto virtuoso Masayo Ishigure, who recorded John Williams' Grammy award-winning soundtrack for the movie "Memoirs of a Geisha," will be performing. The concert also includes Greek singers Xrisoula and Demetris Timoleontos; bouzouki virtuoso Agapitos Magkanaris; and several Hope College music faculty, including pianist David Keep, guitarist David Martin and drummer Mark Lopez.
The theme for this concert is the ancient Silk Road with its rich cultures and traditions connecting East and West for millennia. It includes original works and arrangements for violin in combination with instruments and people representing various cultures along this ancient trading route. The program also features popular selections including the Japanese song "Sakura (Cherry Blossom)"; the "Butterfly Lovers Violin Concerto," based on a Chinese folk legend; Armenian composer Aram Khachaturian's "Sabre Dance"; and Jeno Hubay's "Arabian Lament." The European part of the Silk Road is represented by Italy with works by Giuseppe Verdi and Niccolò Paganini, followed by the songs and dances of the Greek islands, closing with Mikis Theodorakis' "Perigiali," and "Zorba's Dance" from the movie "Zorba the Greek."
Immediately following the concert, there will be a dessert reception in the lobby with the opportunity to meet the artists.
Audience members who need assistance to fully enjoy any event at Hope are encouraged to contact the college's Events and Conferences Office by emailing events@hope.edu or calling 616-395-7222 on weekdays between 9 a.m. and 5 p.m. Updates related to events are posted when available in the individual listings at hope.edu/calendar
The Jack H. Miller Center for Musical Arts is located at 221 Columbia Ave., between Ninth and 10th streets.