The Hope College Great Performance Series presentation of the Soweto Gospel Choir has been rescheduled for Monday, Oct. 24, due to a delay in visa processing for the choir.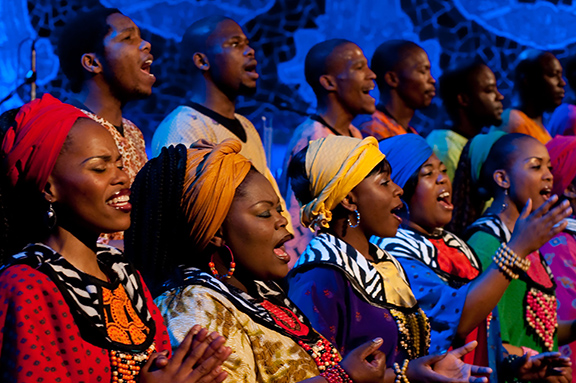 The concert will take place at 7:30 p.m. in the Concert Hall of the Jack H. Miller Center for Musical Arts. Any tickets for the originally scheduled performance on October 5 will be honored at the October 24 concert.
Those who purchased tickets individually for the performance and can no longer attend may either exchange the tickets for another Great Performance Series event or request a refund by contacting the Hope College Ticket Office. Subscribers to the series who are unable to attend the October 24 date should contact the Ticket Office for options.
Soweto Gospel Choir is a three-time Grammy-winning ensemble with various awards in American Gospel Music and South African Music and an Academy Awards nomination.
The choir is touring with its new program, "HOPE-It's Been A Long Time Coming," that celebrates U.S. and South African Artists connected to the civil rights movement. The Scotsman has said, "Nothing can really prepare you for the riot of exuberance and depth of emotion."
Founded in 2002, Soweto Gospel Choir creates and performs countless award-winning world music and Gospel pieces. The group has toured internationally and performed for various presidential and royal figures, such as Archbishop Desmond Tutu, in addition to playing with artists like the Red Hot Chili Peppers.
Tickets for individual performances cost $26 for regular admission, $22 for senior citizens, and $7 for children 18 and under. Season tickets for admission for the entire season are still on sale, and offer a discount on ticket prices for the season's five remaining concerts. Season subscriptions and tickets are available at the Events and Conferences Office located downtown in the Anderson-Werkman Financial Center (100 E. Eighth St.). Individual tickets may be purchased online at hope.edu/tickets. The office is open for ticket sales on weekdays from 9 a.m. to 5 p.m. and can be called at 616-395-7890.
For the full lineup of the Great Performance Series and more on Soweto Gospel Choir, including a video preview, please visit hope.edu/gps
Audience members who need assistance to fully enjoy any event at Hope are encouraged to contact the college's Events and Conferences Office by emailing events@hope.edu or calling 616-395-7222 on weekdays between 9 a.m. and 5 p.m. Updates related to events are posted when available in the individual listings at hope.edu/calendar
The Jack H. Miller Center for Musical Arts is located at 221 Columbia Ave., between Ninth and 10th streets.