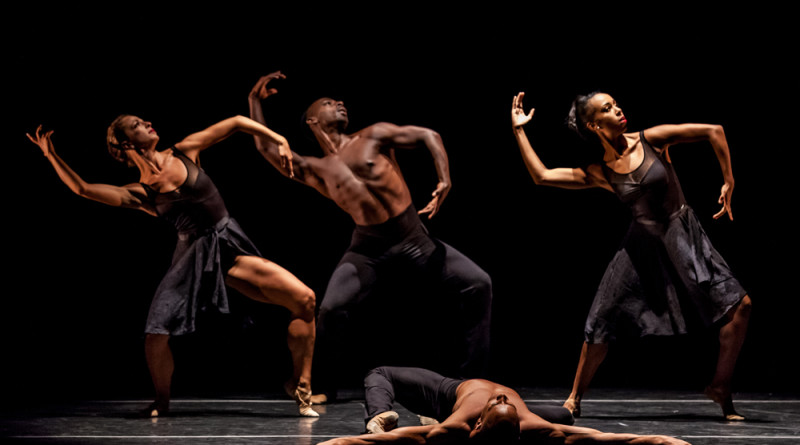 Hope College's Great Performance Series returns for the 2022-23 season welcoming internationally acclaimed artists in music, theater and dance.
The season will open with the Dallas Black Dance Theatre on Friday and Saturday, Sept. 16-17, at 7:30 p.m. in the DeWitt Center main theatre. Founded in 1976, Dallas Black Dance Theatre has been a leader in contemporary modern dance for nearly 50 years. The ensemble consists of 14 professional, full-time dancers performing a mixed repertory of modern, jazz, ethnic and spiritual works by nationally and internationally known choreographers. Dallas Black Dance Theatre is designated as an American Masterpiece Touring Artist by the National Endowment for the Arts and received the coveted Texas Cultural Trust's Texas Medal of Arts Award.
The Soweto Gospel Choir will perform on Wednesday, Oct. 5, at 7:30 p.m. in the Concert Hall of the Jack H. Miller Center for Musical Arts. The three-time Grammy-winning choir returns to North America with its appropriately named program, "HOPE–It's Been a Long Time Coming." The evening will celebrate U.S. and South African artists connected to the civil rights movement. The Scotsman has said, "Nothing can really prepare you for the riot of exuberance and depth of emotion." The choir has performed for U.S. and South African presidents and Archbishop Desmond Tutu, and appeared on national television shows on multiple occasions.
The Amsterdam-based Busch Piano Trio will perform on Thursday, Nov. 10, at 7:30 p.m. in the Concert Hall of the Jack H. Miller Center for Musical Arts. Israeli brothers Ori (cello) and Omri (piano) Epstein met their Dutch colleague, Mathieu van Bellen (violin), at the Royal College of Music in London, where they became fast friends bonding over both football (soccer) and music. The trio has spent the past 10 years playing worldwide, winning numerous awards, and recording critically acclaimed versions of Dvorak and Schubert. The London Times has said, "Beyond the players' individual gifts, what impressed most was the group's effortless musicianship and unity of thought and attack. The threesome even seemed to be breathing in synch."
The second half of the series will open with the return of The Acting Company, this time performing "The Three Musketeers" on Friday, Feb. 3, at 7:30 p.m. in the Knickerbocker Theatre. Founded 50 years ago, The Acting Company has launched the careers of multiple great actors, including Kevin Kline, Rainn Wilson, Patti LuPone and David Schramm. A favorite of the series, the company is returning for a one-night-only performance of its newly commissioned adaptation of Alexander Dumas' classic story. As explained by the company, this version draws inspiration from the fact that Dumas' father, General Alex Dumas, was the highest-ranking person of color in Western military history until our own time. An inspiring tale filled with laughter and adventure, "The Three Musketeers" provides a reminder that courage, honesty and valor can change the world.
The Spanish Brass will perform on Thursday, March 2, at 7:30 p.m. in the Concert Hall of the Jack H. Miller Center for Musical Arts. For 30 years, the award-winning Spanish Brass has remained one of the most dynamic quintets on the international musical stage, and the ensemble's live performances are must-see events. "Spanish Brass dazzled us with daunting passages fearlessly flown across the stage, brilliant color, and comedic moments that endeared each one of them to their audience," the Sarasota Herald Tribune has said. The quintet's 26 recordings are highly acclaimed, and the ensemble has created two international festivals devoted to celebrating and expanding the world of brass instruments.
The season will conclude with one of the fast-rising stars in jazz, Camille Thurman with the Darrell Green Quartet, on Friday, March 31, at 7:30 p.m. in the Knickerbocker Theatre. NPR has called Camille Thurman "a rare jazz double threat." A vocalist and tenor sax player, she is also a composer and multi-instrumentalist. Her rich saxophone sound has been compared to Joe Henderson and Dexter Gordon, while her vocal approach — including an impressive scatting ability — has been classified alongside those of Ella Fitzgerald and Betty Carter. Jazz legend Al Jarreau said, "I'm scared of this lady's scatting!" As for her playing, All About Jazz has called her "a first-class saxophonist that blows the proverbial roof off the place."
Season subscriptions cover all six events, and are available now for $120 for regular admission and $100 for senior citizens, which is less than it would cost to purchase the tickets individually. In addition, securing a season subscription before individual tickets go on sale provides priority choice in seating. Tickets for individual performances will go on sale on Monday, Aug. 15, and will cost $26 for regular admission, $22 for senior citizens, and $7 for children 18 and under. Season subscriptions and tickets are available at the Events and Conferences Office located downtown in the Anderson-Werkman Financial Center (100 E. Eighth St.). The office is open for ticket sales on weekdays from 9 a.m. to 5 p.m. and can be called at 616-395-7890.
Audience members who need assistance to fully enjoy any event at Hope are encouraged to contact the college's Events and Conferences Office by emailing events@hope.edu or calling 616-395-7222 on weekdays between 9 a.m. and 5 p.m. Updates related to events are posted when available in the individual listings at hope.edu/calendar.
For more information on the artists, including videos, visit hope.edu/gps.