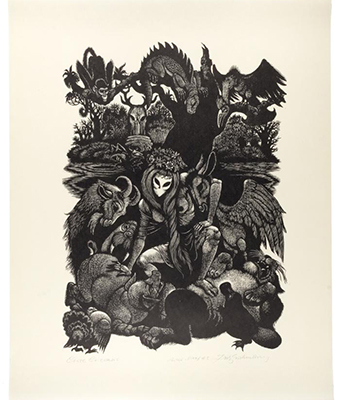 The Kruizenga Art Museum at Hope College will present the exhibition "Mythic," featuring 14 artworks depicting characters and stories from classical Greek and Roman mythology, from Tuesday, Nov. 8, through Saturday, Dec. 17.
The public is invited. Admission is free.
The works in "Mythic" range in date from the early 17th to the late 20th century and include pieces by well-known artists such as Salvador Dali, Rockwell Kent and Romare Bearden. The exhibition is curated by KAM director Charles Mason.
"If you think about the stories that are told in classical mythology, it is easy to understand why artists have been inspired by them for many centuries, and continue to be inspired by them today," Mason said. "There are love stories and tragedies, adventure quests and comedies. The characters include supernatural beings and horrifying monsters, and the plots are often set in interesting and exotic places. Before we had movies, television, and the internet, classical myths — and the art inspired by them — allowed people to escape into other worlds of fantasy and imagination."
Examining the enduring appeal of classical mythology in European and American art, the exhibition was organized to complement the 2022 Hope College NEA Big Read Lakeshore program. The 2022 Big Read book is "Circe" by Madeline Miller, which reimagines the life story of a minor Greek goddess and expands into a sweeping saga that provides new insights into both classical mythology and modern society. More information about this year's Big Read, including a complete schedule of events, is available at bigreadlakeshore.com
The Kruizenga Art Museum functions as an educational resource for Hope College and the greater West Michigan community. The museum features two public galleries as well as a study room and climate-controlled storage space for its 7,000-object permanent collection. It is named in honor of a leadership gift from the late Dr. Richard and Margaret Kruizenga of Holland, both of whom graduated from Hope in 1952.
The Kruizenga Art Museum is located at 271 Columbia Ave., between 10th and 13th streets. Public visiting hours are Tuesdays through Saturdays from 10 a.m. to 4 p.m.
TITLE: Circe Circensis
ARTIST: Fritz Eichenberg (American; German, 1901 – 1990)
publisher : Associated American Artists (American)
DATE: 1966
MEDIUM: Wood engraving
CREDIT LINE: Hope College Collection
OBJECT TYPE: Print