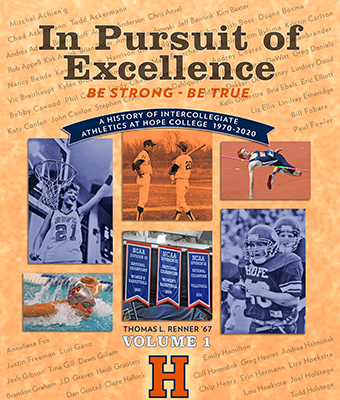 The newly published history "In Pursuit of Excellence" by Tom Renner provides a comprehensive, carefully researched chronicle of Hope College sport from 1970 to 2020.
Subtitled "Be Strong – Be True: A History of Intercollegiate Athletics at Hope College, 1970-2020," the two-volume set tracks the program across its growth from nine intercollegiate sports for men, to sponsoring 22 sports — evenly divided for men and women — in addition to a successful club ice hockey team. The book totals 847 pages and contains more than 1,000 photos.
For more about the book, and to see several of its 1,000-plus photographs, please visit the feature article "A Story of Multitudes" by Jim McFarlin '74 in the Winter 2021 issue of "News from Hope College."
"In Pursuit of Excellence" was published earlier this month by the college's Van Raalte Press, which will host a book-signing event on Saturday, May 7, from 10:30 a.m. to 12:30 p.m. in the rotunda of the college's Martha Miller Center for Global Communication. Renner and others will offer brief reflections at 10:45 a.m., and light refreshments will be served. Copies of the book will be available for purchase.
Renner has been pursuing "In Pursuit of Excellence" as a specific project since retiring in December 2013 as the college's associate vice president for public and community relations, but in a sense he worked on it in real time. He developed and directed the college's sports information program from 1967 — the year that he joined the staff — through June of 2013, and has continued to take photographs and write about athletic contests for Hope. He was also the publicist and statistician for the Michigan Intercollegiate Athletic Association from 1967 until 2008, and since 2008 has served as MIAA historian.
"My journey with Hope runs parallel with the period of time we're covering in the book," he said. "Most authors don't have the opportunity to meet the historical figures they are writing about. I had the privilege of knowing over this past half century each and every person mentioned in my book — coaches, athletes, colleagues, fans."
"I also knew at the time that I started at Hope that I was responsible not only for promoting Hope athletics but maintaining the history," he said. "I kept a lot of material over the next 50 years."
The book begins with Renner's picks of the top 107 moments in Hope athletics across the half-century covered, followed by photo highlights grouped by decade from the 1970s through the 2010s. Subsequent chapters — still in the first of the two volumes — include the development of women's athletics before and after Title IX was passed in 1972; the Hope-Calvin rivalry in all sports; national championships; the leadership of coaches, staff and administrators; and the evolution of athletic training at the college. A "Beyond the Game" chapter features anecdotes, such as the entire student section joining basketball referee Ernie Cryer during pregame stretching exercises at the Holland Civic Center.
The second volume includes a year-by-year chronology covering 1969-70 through 2019-20 in every sport; appendices listing all-time coaches by sport; All-MIAA family ties; and individual and team honorees in multiple categories, including top-10 finishes in NCAA Division III. It wraps up with name, illustration and subject indexes that include everyone mentioned in the text or identified in a photo.
"I hope I've captured the spirit of this past-half century, and that it will spark in the minds of people some remembrances of their experiences," Renner said.
"I'm also hoping it's the kind of volume that people come back to — it's not a one-time read," he said. "It's intended to be the kind of publication that people will pick up and look at multiple times."
The acknowledgements credit more than 120 colleagues, statistics keepers, photographers and others. "In sports it takes a team to be successful, and that's how I look at this: this wonderful team of people made this book," he said.
The chapters chronicling women's athletics were written by Eva Dean Folkert, recently retired as interim director of public affairs and marketing, who is also a former co-director of athletics and former women's golf coach; and Dr. Donald Luidens, retired Hope sociology professor and director of the college's Van Raalte Institute. The chapter on athletic training was written by Dr. R. Richard Ray, professor of kinesiology and former provost and dean, who led development of the college's academic program in athletic training. Longtime colleague Lynne Powe, who is photography and digital asset manager at Hope, assisted with image selection and cleaned up the images produced by scanning negatives from the decades when cameras used film.
"In Pursuit of Excellence" picks up where two earlier books by the late Gord Brewer left off. Brewer, a track coach for 32 seasons and former director of athletics, had chronicled the story from the beginning with "…But How You Played the Game! A History of Intercollegiate Athletics at Hope College, 1862-1955," published in 1992, and its 2002 companion, "Journey of Hope: Names and Games Remembered: A History of Intercollegiate Athletics at Hope College, 1955-1970." The cover design by Wes Wooley retains the look of the Brewer books, so that together the former and new volumes create a matched set.
Renner had collaborated with Brewer on the 1992 and 2002 books, selecting photos and creating the layouts. In addition to his extensive writing about about Hope athletics during his time on staff, Renner's other publications include the book "Celebrating a Century of the Student Athletic," which is a history of the MIAA from 1888 to 1988; collaborating with author and former Holland Sentinel editor Randall P. Vande Water on the book "100 Years of Hope Basketball," published in 2004; and a chapter on the history of Hope athletics in the 2019 book "Hope College at 150: Anchored in Faith, Educating for Leadership and Service in a Global Society."
"In Pursuit of Excellence" is available at the Hope College Bookstore for $50. A limited number of the two books by Gord Brewer are also available together for an additional $25 for those who purchase "In Pursuit of Excellence" and wish to have the entire set chronicling 1862 through 2020.