Hope College has appointed two current members of the faculty with strong backgrounds as teachers, researchers and administrators to academic deanships following national searches for both roles.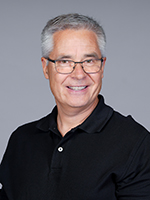 Dr. Jonathan Peterson of the geological and environmental sciences faculty has been named dean of natural and applied sciences after serving as interim dean since the fall of 2020. Dr. Lindsey Root Luna, associate professor of psychology and department chair, has been named dean of social sciences.
"Jon and Lindsey both stood out in national searches that drew many excellent candidates," said Dr. Gerald Griffin, who as provost is Hope's chief academic officer. "They both have served Hope exceptionally well in a variety of capacities, and I'm excited for what their thoughtful leadership and commitment to students, their colleagues and excellence in achieving the full mission of Hope College will mean for the future."
Peterson graduated from Hope in 1984 with a geology major and returned 10 years later as the first assistant professor of environmental science in the college's history. He chaired the Department of Geological and Environmental Sciences from 2001 to 2007, and held the college's Lavern and Betty DePree VanKley Endowed Professorship in Geology and Environmental Science from 2015 until 2019.
His research area is environmental geochemistry and hydrogeology. During his years as a Hope faculty member he has worked on three main topics: laboratory simulations of groundwater remediation techniques, with an emphasis on air-sparging of petroleum contaminants; experiments on the interactions between antibiotics and oxide nanoparticles, investigating the fate and transport of drugs in the environment; and a global survey of unimproved drinking water sources, looking at particulate and heavy metal contamination, and the potential role of point-of-use water filters in improving public health.
All of these projects have included, and continue to include, undergraduate research assistants. These students present research results at national scientific meetings and co-author publications in scientific journals.
Peterson has taught a variety of geology and environmental science courses at Hope, including Planet Earth, Earth Environmental Systems, Hydrogeology, Mineralogy, Petrology, Petroleum Geology, Regional Geology of Arizona, Laboratory Methods in Environmental Science, Advanced Environmental Seminar, and Environmental Public Policy. He has also led a First-Year Seminar called, "All that Glitters is Not Gold," and a Senior Seminar titled, "George Washington and the Presidential Role Model."
He has twice served as a visiting scientist at the Department of Energy-Oak Ridge National Laboratory, and during both the fall of 2007 and the fall of 2014 was Resident Director of the GLCA/ACM (Great Lakes Colleges Association/Associated Colleges of the Midwest) Oak Ridge Science Semester Program.
Peterson completed his doctorate in geology at the University of Chicago in 1989. Prior to returning to the college as a member of the faculty, he worked as an exploration and development geologist with Amoco Production Company, and as a groundwater remediation coordinator with Amoco Oil Company.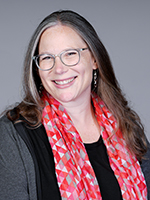 Root Luna, whose appointment as dean begins July 1, has been a member of the Hope faculty since 2012, and has been department chair since 2021. Her service to the college has also included directing the neuroscience program, and co-directing the Continuum Scholars and Faith and Scholarship programs for faculty. Earlier this year, she was recognized as a Fellow by the Midwestern Psychological Association (MPA), the highest honor that the association can bestow on a member.
A 2003 Hope graduate, she returned to the college as a faculty member with a desire to engage intentionally in faith integration and grow her research program in virtues and emotion regulation. She began studying forgiveness within a psychological framework when she was a student at Hope, and since joining the faculty she has regularly engaged students collaboratively in her research. She continues to investigate how forgiveness impacts the body along with how embodying humility, gratitude and hope impact physiological functioning, in particular, heart rate variability. She has regularly had articles published in refereed journals, frequently with students as co-authors.
Root Luna is a past vice president of the Midwestern Region of Psi Chi, the International Honor Society in Psychology. She has advised the college's chapter of Psi Chi since 2014, and received the Regional Faculty Advisor Award for the Midwestern Region in 2017. During her time as advisor, the chapter has received two Model Chapter Awards and the Kay Wilson Officer Team Leadership Award. In addition, five groups of students she has mentored have won regional Psi Chi research awards.
Her teaching responsibilities in the Department of Psychology have included Introduction to Psychology, Research Methods in Psychology, Theory and Practice of Helping, Behavior Disorders, Perspectives on Personality, Advanced Research in Psychology, Clinical Psychology, and Advanced Neuroscience Research I and II. In addition to advising Hope's chapter of Psi Chi, she advises the Psychology Club. The college's graduating senior class presented her with the "Hope Outstanding Professor Educator" (H.O.P.E.) Award in 2017.
Prior to coming to Hope, Root Luna completed her pre-doctoral internship at Pine Rest Christian Mental Health Services in Grand Rapids and maintains an active clinical license. She was a faculty member at Ferris State University for three years before joining the Hope faculty.
She completed her master's and doctorate in clinical psychology at the University of Miami in 2005 and 2009, respectively.
Peterson became interim dean when his predecessor, Dr. David Van Wylen, transitioned to a new role as a principal in the college's newly formed Office of Possibilities after serving as dean since 2015. Root Luna will succeed Dr. Scott Vander Stoep, a professor of psychology who will return to teaching full-time after serving as dean since 2012.
The college's academic departments are organized into four divisions: the arts and humanities, which are grouped under the leadership of one dean; the natural and applied sciences, and the social sciences.
The natural and applied sciences include the departments of biology, chemistry, computer science, engineering, geological and environmental science, mathematics and statistics, nursing and physics, along with the college's programs in biochemistry and molecular biology, and neuroscience.
The social sciences include the departments of communication, economics and business, education, kinesiology, political science, psychology, and sociology and social work, and the college's programs in global studies, American ethnic studies and peace and justice, as well as the Phelps Scholars Program. The division also includes the Hope College TRIO Upward Bound program for students in grades 8–12 who are interested in pursuing an educational program beyond high school.