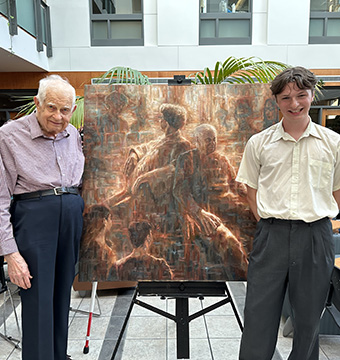 A painting commissioned by the Department of Chemistry at Hope College honors retired professors Dr. Eugene Jekel '52 of Holland and the late Dr. Elaine Jekel for their impact on chemistry education — and tens of thousands of students — across the country and around the world through a long-running program at Hope for high school teachers.
A unique family connection provides additional meaning. The artist, Tails Jekel, is the husband-and-wife couple's grandchild.
Titled "Your Light," the painting has been installed in the hallway near the General Chemistry laboratories on the second floor west of the main/central staircase of the A. Paul Schaap Science Center. It debuted during a reception in the atrium on Tuesday, July 18.
"Their work brought light to many, and I hope this painting will remind this community of them and their impact and how hard work and dedication can change lives," said Dr. Elizabeth Sanford, professor of chemistry and department chair, who emceed the July 18 event. "And I hope that our current students will stare into this painting and see student after student and see themselves and find their light."
Drs. Elaine and Eugene Jekel, who retired from the faculty in 1993, coordinated the "NSF Summer Institute" from 1964 through 1991. The program was funded by the National Science Foundation (NSF) and designed for teachers of Advanced Placement and second-year high school chemistry.
With the exception of four years during which the NSF funded no summer programs for high school teachers, the program ran without interruption, 24 times total. Across its history, more than 1,050 high school teachers from throughout the U.S. and abroad participated. They gained additional knowledge of chemistry and a battery of laboratory experiments to enhance their teaching for years to come. The teachers also became informal ambassadors for the college, with their summertime experience leading them to encourage their students to attend Hope. The program was recognized nationally with the American Chemistry Society's Catalyst Award in 1985, and Eugene — who is a 1952 Hope graduate — received Hope's Distinguished Alumni Award in 1987.
Dr. Elaine (Zimmerman) Jekel and Dr. Eugene Jekel met while in graduate school at Purdue University and were married in 1960. Eugene began teaching at Hope in 1955 and retired as the Edward A. and Elizabeth Hofma Professor Emeritus of Chemistry. Elaine, who died on March 5, 2015, began teaching at Hope in 1960 and retired as an adjunct professor emerita of chemistry.
The A. Paul Schaap Science Center is located at 35 E. 12th St., at the corner of 12th Street and College Avenue.