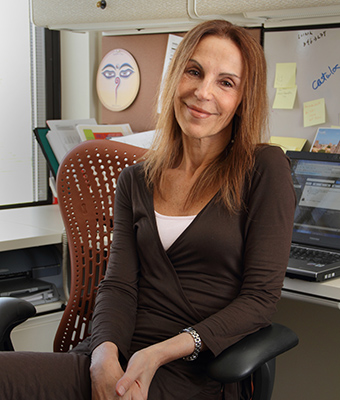 Dr. Maria Claudia André, who retired from the Hope Spanish faculty in 2020 after serving at the college for 25 years, died on Saturday, April 22, 2023, after being diagnosed with an autoimmune disorder about a year ago.
She joined the faculty in 1994, and chaired the Department of World Languages and Cultures from 2009 to 2015. She taught all levels of Spanish, Introductory Portuguese, Translation and Interpretation, and a variety of topics in Latin American cultures and literatures.
Her research focused on Hispanic American literature and Latin American studies, with a particular emphasis on Latin American women writers. She regularly conducted research collaboratively with students, in both the U.S. and Mexico, and received a Mellon Foundation Mentoring Award in 2015.
Please follow the following links to read more about Dr. André and her research during her time at Hope:
"Exploring Beyond the Pages," a 2015 faculty profile:
"Research in Mexico: Studying Art at the Source," published in the December 2015 issue of "News from Hope College" (pdf, pages 14-15): "City by City, the Arts Interpret Culture," published in the 2018 issue of the college's "Spera" research journal:
She edited or co-edited several books, including "Chicanas and Latin American Women Writers: Exploring the Realm of the Kitchen as a Self-Empowering Site," "Antología de Escritoras Argentinas Contemporáneas," "Entre mujeres: colaboraciones, influencias e intertextualidades en la literatura y el arte latinoamericano," "Iconos femeninos latinos e hispanoamericanos," "Seven Plays by Argentine Playwright Susana Torres Molina," the "Encyclopedia of Latin American Women Writers," "En esa habitacion propia," "Dramaturgas argentinas de los años 20," "The Woman in Latin American and Spanish Literature" and "Escrituras Extremas." She also presented papers at national and international conferences and published articles in multiple literary journals.
André received a variety of external grants in support of her research, including from the Council on International Educational Exchange, the Great Lakes Colleges Association and the University of Florida Center for Latin American Studies. Hope presented her with its Academic Computing Committee Faculty Innovation Award in 2014 in honor of her innovative and ongoing use of technology in both teaching and research, including her work developing an online historical archive featuring women surrealist artists. She was named a member of the North American Academy of Spanish Language in 2016.
André earned her bachelor's degree in translation and interpretation from the Universidad del Salvador in Buenos Aires, Argentina, in 1984; and her doctorate in philosophy with a focus in modern Latin American and Spanish literature, from the State University of New York at Albany in 1995.
No memorial is planned. In lieu of flowers, and to honor her work with and for women, the family suggests that donations be made to Resilience, which supports people who experience domestic and sexual violence in Ottawa County.