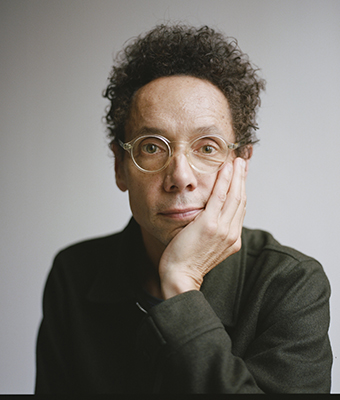 Bestselling author Malcolm Gladwell will host a dynamic keynote presentation at Hope College on Thursday, March 9, at 7 p.m. that will provide an energizing exploration of how to improve access to college by removing tuition as a barrier and the potential for building generosity and community along the way.
The event will culminate the day-long "Catalyst Summit" taking place at Hope. Subtitled "Access and Innovation in Higher Education," the summit is bringing together thought leaders from a variety of fields to consider new ideas and spark meaningful conversations about how to fix higher education's broken funding model.
The evening keynote will be in the Concert Hall of the Jack H. Miller Center for Musical Arts. The public is invited and admission is free, although advance registration is required via the summit's website. The keynote will also be livestreamed.
While the summit's daytime events are limited to invited guests and the campus community due to space limitations, the three primary daytime sessions, taking place at 8 a.m., 10 a.m. and 2 p.m., will also be livestreamed.
Named "Catalyst" as the spark for something new, the summit has grown out of the college's "Hope Forward" initiative, which has gained national attention since its launch in the summer of 2021. "Hope Forward" is a tuition-free funding model that, once fully implemented, will ask Hope's students to give to the college upon graduation rather than requiring them to pay for their education in advance, emphasizing the concepts of generosity and community.
The summit is designed to bring together brilliant minds in a visioning session to brainstorm what's possible when all approaches and perspectives to untying the tuition knot — in addition to "Hope Forward" — are on the table. The invited participants include corporate executives, educators, entrepreneurs and writers from around the country.
"We're grateful that 'Hope Forward' has caught the imagination of others who recognize that the funding model of higher education needs to change so that more students will have access to a life-changing college education," said Hope College President Matthew A. Scogin. "We're excited to have an amazing and diverse group of thinkers coming to campus to consider solutions together."
"Hope is tackling a societal challenge the size of a giant, and this is precisely what Malcolm focuses on in his best-seller, 'David and Goliath.' In emphasizing generosity and gratitude, 'Hope Forward' also aligns our business model with our values as a Christian college. 'Hope Forward' is built around the center of the Gospel message, which says, 'You are covered. Now, go and live differently,'" Scogin said. "We invite everyone to join us either in person or by livestream to learn from thoughtful leaders in this space and become energized themselves."
Gladwell is the author of seven New York Times bestsellers, including "David and Goliath: Underdogs, Misfits and the Art of Battling Giants" and "The Tipping Point: How Little Things Can Make a Big Difference," and host of the podcast Revisionist History. During the 7 p.m. event, titled "Catalyst Summit After Hours: Primetime Keynote," he will speak with a series of three invited guests one-on-one, with all four remaining onstage and carrying on the conversation together, patterned after a talk show.
In addition to Gladwell, the participants will include Matt Scogin; Anne Snyder, who is editor-in-chief of Comment magazine and a writer focused on exploring the possibility of an economy built upon giving and generosity; and Dave Levin, co-founder of KIPP Public Schools, a network of 280 pre-K-12 public charter schools with 15,000 educators and 175,000 students and alumni across the U.S.
The 8 a.m. livestreamed session will present "A Real Conversation about Finding and Retaining Talent," and will feature Malcolm Gladwell and Doug Conant, with Lauren Hearit of the Hope economics and business faculty serving as moderator. Conant is founder and CEO of ConantLeadership, and an internationally known business leader, and New York Times and Wall Street Journal bestselling author with more than 40 years of leadership experience at global companies, including as president of Nabisco Foods Company, CEO of Campbell Soup Company and chairman of Avon Products. Hearit is an assistant professor of business at Hope who teaches courses in management and conducts research focused on the intersection of economics, strategic communication and organizational communication. The discussion will consider the importance of talent for building high-performing teams and organizations, along with the recruitment and retention challenges presented by today's competitive and rapidly changing environment.
The 10 a.m. session will explore "Pushing the Boundaries of Innovation in Higher Education," and will feature a dialogue between Malcolm Gladwell, Matthew Scogin and Michael Crow, who is president of Arizona State University and the author of books and articles analyzing knowledge enterprises, science and technology policy, and the design of higher education institutions and systems. The focus will be on what prevents colleges and universities from being more creative and innovative, and the risk that stagnation poses for long-term institutional health and academic excellence.
The 2 p.m. session, "Breaking through the Tuition Barrier," will feature Scogin with Pete Kadens, who is an entrepreneur, philanthropist and founder of the HOPE Toledo Promise and HOPE Chicago, non-profit organizations devoted to ensuring that public school children in the two communities have access to a tuition-free college education. The discussion will reflect on what removing the debilitating and often-insurmountable financial barrier can mean for multiple generations, families and communities.
In addition to the evening keynote and livestreamed sessions, the summit will feature multiple other events for invited guests, beginning with a kick-off celebration on Wednesday, March 8, and continuing with activities on Thursday, March 9, including concurrent, interactive "lunch-and-learn" sessions focusing on Hope's approach to a variety of global issues in higher education; and an exhibition featuring artwork and stories created by students participating in the pilot "Hope Forward" cohorts that enrolled in 2021 and 2022.
More information about the Catalyst Summit is available at catalyst.hope.edu
The livestreaming will be available on the college's YouTube channel, accessible either through the Catalyst Summit website or directly at youtube.com/hopecollege
The Jack H. Miller Center for Musical Arts is located at 221 Columbia Ave., between Ninth and 10th streets. If the Concert Hall reaches capacity for the evening keynote, overflow seating for remote viewing will be available elsewhere on campus.