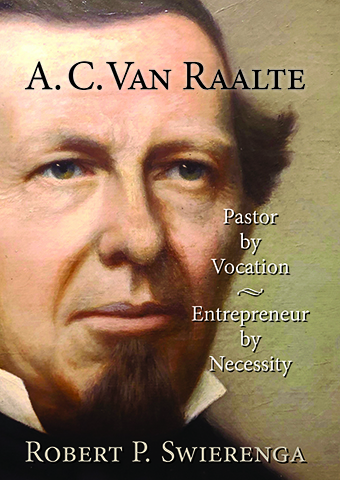 The new book by historian Dr. Robert P. Swierenga about the Rev. Dr. Albertus C. Van Raalte draws upon information never before available, leading to what has been described as "the definitive biography" of the founder of Holland and co-founder of Hope College.
"A.C. Van Raalte: Pastor by Vocation, Entrepreneur by Necessity" has been published this fall by the Van Raalte Press at Hope College. Across the book's more than 600 pages, Swierenga chronicles Van Raalte's life and achievements; the challenges and controversies he faced; and the roles that his personality, his faith and the times all played.
Van Raalte, who lived from 1811 to 1876, led the Dutch immigrants who founded Holland in 1847 and later settled throughout West Michigan in search of religious freedom and economic opportunity unavailable to them in the Netherlands, where they were persecuted for dissenting from the state-approved church. Committed to education, he established the community's first school, which he ultimately developed into Hope College, chartered in 1866, with founding president Philip Phelps Jr. And those two achievements, Swierenga notes, are essentially only the headlines.
"Van Raalte accomplished more in his life than most men of his time, as preacher, immigrant leader, community builder and social entrepreneur," Swierenga writes. "He was the undisputed leader of all Reformed Hollanders in the Midwest. Parishioners were captivated by his sermons and counseling; his colony became the engine for making West Michigan the Dutch center of North America, and his real estate dealings would have made him a millionaire in today's dollars."
"Most remarkably, he would have eschewed all accolades," Swierenga continues. "In his mind, he faced more failures than successes. He experienced bitter church schisms in the Netherlands and in North America. His path to the ministry in the church of his birth was blocked unjustly by church authorities, but he refused to concede even minor points of church rules and regulations."
"A.C. Van Raalte: Pastor by Vocation, Entrepreneur by Necessity" is not the first biography of Van Raalte — half a dozen others were published between 1877 and 1997 in the United States and the Netherlands, and there have been numerous scholarly articles and other works about either him or his impact. The new biography is comprehensive. For that, Swierenga credits the Rev. Dr. Elton J. Bruins (1927-2020), professor emeritus of religion and founding director of the college's Van Raalte Institute, who spent decades collecting material about Van Raalte.
"So why another Van Raalte biography? Because the early works are incomplete. The writers lacked the voluminous Bruins' documents that have allowed for a full-length study," writes Swierenga, who dedicated the book to Bruins. "His treasure trove of 6,000 documents fills six large file drawers, each document carefully cataloged, summarized, and translated by Dutch-language speakers."
Swierenga complemented Bruins' research with other sources, including the earlier volumes and articles. The resources included the Van Raalte Collection in the Heritage Hall Archives at Calvin University, which, Swierenga notes, "originated with Van Raalte heirs who safeguarded the documents, papers, financial records, and photographs of their progenitor."
The book opens with a chapter exploring the career and impact of Van Raalte's father, also a pastor in the Netherlands, before tracing Van Raalte's life from his birth in Wanneperveen in October 1811 to his death in his thriving community on Michigan's west coast in November 1876. It follows, among other things, the struggles that he and others endured for breaking from the official church in the Netherlands; the decisions that led him and his followers first to the United States, and then to West Michigan specifically; his acumen in purchasing land so that it would be available to members of the community instead of snapped up by speculators; the schism that led to the creation of the Christian Reformed Church; his many fundraising trips on behalf of the college and the Holland Academy from which it grew; and the disappointment and squabbling that led him to begin a new colony in Virginia after the Civil War and then to seek to become a missionary in Africa. Swierenga hopes that the result is an accurate and revealing treatment of a complex figure.
"Contemporaries and historians by the score have characterized Dominee Albertus C. Van Raalte variously as a modern Moses, a pope, Napoleon, a dictator, an emperor, a mighty pioneer leader, an American patriot, a statesman (like George Washington), a Jacksonian (like Andrew Jackson), a prophet (like Samuel or Elijah), and a Dutch pilgrim father," Swierenga writes.
"Van Raalte is described as a born leader, with an iron will, a true visionary, a guiding star, the soul of the colony, an aristocrat in bearing, a benefactor, and a counselor," he notes. At the same time, Swierenga says, "The dominie was a demanding man who jealously guarded the interests of his colony right or wrong, as he saw them… He did not take kindly to critics, dissenters and rivals, and he would not take no for an answer."
"Hopefully, this book, based on the full corpus of Van Raalte documents collected on both sides of the Atlantic over the course of a century or more, will unravel that enigma," he writes.
Swierenga has conducted research and written on Dutch immigration and related topics since the 1960s. In addition to writing or editing more than three dozen books, he has written more than 250 journal articles and lectured widely on issues related to the Dutch in America. His book "Holland, Michigan: From Dutch Colony to Dynamic City," for which he spent more than 10 years conducting research and writing, received a State History Award from the Historical Society of Michigan in 2014. He wrote the 88-page chapter "Stewardship of Resources," covering the college's financial history, for the two-volume history of Hope "Hope College at 150" (2019), edited by Dr. Jacob E. Nyenhuis, who was also the book's primary author. Both books have been published through the college's Van Raalte Institute.
Swierenga has been with the Van Raalte Institute since 1996, when he retired from the faculty of Kent State University. He previously taught at Calvin University (1961-62, 1965-68) and Pella (Iowa) Christian High School (1958-61).
The Van Raalte Institute at Hope and its publishing arm, the Van Raalte Press, are both named in Van Raalte's honor. Established in 1994, the A.C. Van Raalte Institute is located in the Henri and Eleonore Theil and Jacob E. and Leona M. Nyenhuis Research Center at 9 E. 10th St. and specializes in scholarly research and writing on immigration and the contributions of the Dutch and their descendants in the United States. The institute is also dedicated to the study of the history of all the people who have comprised the community of Holland throughout its history. More information about the Van Raalte Institute is available online at hope.edu/vri
The Van Raalte Press was founded in 2007 by Nyenhuis, the institute's second director, to facilitate the publication of the scholarship of the Van Raalte Institute. The press published 30 titles with 37 volumes during Nyenhuis' tenure as its editor-in-chief, which concluded earlier this month, including four books published jointly with the Wm. B. Eerdmans Publishing Company.
Copies of "A.C. Van Raalte: Pastor by Vocation, Entrepreneur by Necessity" are available for $50 and can be purchased at hope.edu/bookstore as well as through Amazon.