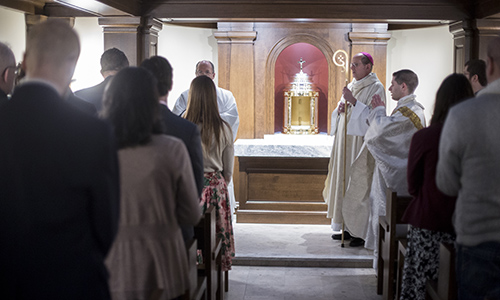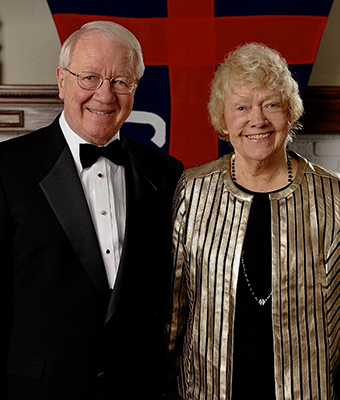 Carol Schaap, who died on Friday, Aug. 4, 2023, at age 85, is remembered at Hope for having a transformative impact on the campus and multiple college programs, spanning academics, co-curricular experiences, faith formation and financial aid.
Across the past two decades, Carol Schaap and her husband, Dr. A. Paul Schaap, who survives her, have provided major gifts for facilities including the A. Paul Schaap Science Center, the Jim and Martie Bultman Student Center, and the Saint Anne Oratory at the Carol C. Schaap Chapel; and for endowment in support of faculty and student collaborative research in the natural and applied sciences. The funding has been in addition to the significant contributions they have faithfully made annually to the Hope Fund for more than 40 years to support students and financial aid/access to a Hope education.
"Carol's profound spirit of generosity, faith and love of students were evident to all who knew her," said Hope College President Matthew A. Scogin. "Her legacy will continue to impact students' lives here on campus and is a testament to who she was. We are honored to have known Carol and extend our deepest sympathy to Paul and all the family and friends mourning Carol's loss."
The qualities highlighted by Scogin were indeed evident to Jeff Puckett, vice president of philanthropy and engagement at Hope, who admires the commitment to making a lasting difference to others that he noted has been the foundation of the breadth and depth of the initiatives that the Schaaps have supported through the years.
"Carol was an amazing human being. I was always struck by the integrity of her leadership and a spirit of care and community that was uniquely hers but shared steadfastly with her husband, Paul. She genuinely cared for others," Puckett said. "She understood the power of generosity and its ripple effect. Carol never just gave to a project, she and Paul gave through the project. Their breadth of philanthropy at Hope — financial access for students, academic excellence, institutional sustainability, collaborative student/faculty research, faith formation, and so many other areas — is a humbling testament to the countless lives Carol's consequential life changed for the better."
The Grosse Pointe Park couple's connection to the college was initially through Dr. A. Paul Schaap, who graduated from Hope with a chemistry major in 1967. Paul Schaap subsequently earned a Ph.D. in organic chemistry from Harvard University and then taught and conducted research at Wayne State University. His research focused on the study of dioxetanes (high-energy chemical compounds which can be triggered to generate chemiluminescence or light). While continuing his teaching and research efforts at Wayne State, he formed Lumigen Inc. in 1987 to commercialize the dioxetanes which had been developed in his research laboratory. Paul Schaap received a Distinguished Alumni Award from Hope in 2006, and was a member of the college's Board of Trustees from 2007 to 2019.
Carol Schaap was on the staff at Wayne State University for approximately 30 years beginning in 1961, having previously been a secretary with the FBI and Parke Davis. She held a variety of secretarial positions during her time at the university, including first as secretary to the chair of the Chemistry Department and finally as executive secretary to the president. She and Paul met while both were employed at Wayne State, and were married on March 16, 1976. Additional information about Carol, including a biographical sketch and further insight into her interests, is available in her obituary, located at www.verheyden.org. As shared in the obituary, "She was a force, a pillar of strength, a beacon of resilience, and a source of unending warmth and love. As we remember Carol, let us strive to embrace her values and her spirit, to carry forward her legacy of love, laughter and generosity."
The Schaaps' impact at Hope is most visible – literally – through the college's A. Paul Schaap Science Center, where thousands of students have learned across the past 20 years. Less apparent but no less significant is the difference that they have made within the facility, where endowments they established are providing funding in perpetuity for research, enhancing original discovery by Hope's faculty scientists and the students who work with them through the college's nationally acclaimed model of teaching science through participation in mentored research.
"Paul and Carol Schaap's support has had legacy impact, in that the Schaap Science Center has enabled, promoted and sustained top-notch science education and laboratory-based research at Hope College," said Dr. Jon Peterson, dean for natural and applied sciences at Hope. "In addition, Schaap endowment support has provided faculty research opportunities typically unavailable to scientists at liberal arts colleges."
The A. Paul Schaap Science Center houses the college's departments of biology, chemistry, geological and environmental science, nursing and psychology, as well as the biochemistry, molecular science and neuroscience programs, and the office of the dean for the natural and applied sciences. The center includes an 85,900-square-foot building that was newly constructed and opened for the beginning of the 2003-04 school year, and the original 72,800-square foot Peale wing, which had opened in 1973 and was renovated after the new building was completed. The facility was named in honor of Paul Schaap on May 5, 2006, in recognition of a leadership gift the couple made on behalf of the project.
The couple's endowment support includes the Schaap Research Fellows program, which began in 2013 and funds scholarly activity for faculty in the Department of Chemistry. Another endowment underwrites the college's biennial Schaap Chemistry Symposium, a summertime event that debuted in 2017 and features research talks by students and scientists from Hope and other institutions from around the country. The symposium was held most recently this past June.
"We are incredibly thankful for all that Paul and Carol have done for Hope College and for their exceedingly generous support of the chemistry program," said Dr. Elizabeth Sanford, professor of chemistry and department chair. "It enables us to be distinctive: We are able to engage more students in undergraduate research; we are able to access a higher level of instrumentation to take research to new levels; we are able to attract and retain outstanding faculty with the Schaap Fellows Program; we are able to sponsor the Schaap Symposium that demonstrates to a national audience what Hope students and faculty are capable of in the unique partnership of undergraduate research."
"Paul and Carol's generosity helps us to transform potential into reality," Sanford said. "It allows us to say, Yes, we can do that."
Following their support of the science center, Carol and Paul Schaap were among the national co-chairs of the college's "A Greater Hope" comprehensive campaign, which was developed as a $175 million effort and initiated in 2007, and successfully concluded in 2015 having raised more than $203 million in gifts and pledges from more than 21,000 donors.
The campaign's major initiatives included the 42,000-square-foot Jim and Martie Bultman Student Center, named for Hope's 11th president and his wife, which opened for the start of the 2017-18 school year as the college's first dedicated student-center space in more than 35 years. The building's Schaap Auditorium, which hosts a variety of campus events, is named in honor of Carol and Paul Schaap in recognition of their support of the project.
Most recently, they provided a leadership gift for the Saint Anne Oratory at the Carol C. Schaap Chapel, which serves as a worship space for Catholics on Hope's campus and is located in Graves Hall. Carol Schaap was a faithful Catholic her entire life, and although Paul is not himself Catholic, the couple attended Mass together for the nearly 50 years that they were married.
The chapel – made possible through the generosity of more than 30 benefactors – opened in March 2022 following a Mass of Blessing by The Most Reverend David J. Walkowiak, Bishop of the Catholic Diocese of Grand Rapids, and is in renovated space that had previously housed the college's Schoon Meditation Chapel since 1962. It's quickly become a treasured space for worship and reflection.
"Several students have commented to me that of all the places on campus they've tried to pray, there is just something about St. Anne's that always draws them there — a kind of intimacy with God they don't find elsewhere," said Fr. Nicholas Monco, O.P., who is chaplain of the Saint Benedict Institute, an intellectual and spiritual ministry of St. Francis de Sales Catholic Church that serves Hope College.
"One of the reasons I value this space is because I really do think it was the will of God that this beautiful space be here," he said. "It happened because the moment Paul heard about the idea it touched his heart and he thought the best gift he could give to his wife was a beautiful place where others could encounter God, just as she had. It says a lot about the sort of person Carol was that her devoted husband thought this gift given to others would be one she'd appreciate the most. That this happened on the feast day of St. Benedict was a sign for me that God had decided to bless us through Paul and Carol, with this space."
There will be a funeral mass for Carol on Saturday, Aug. 26, at 10 a.m. (gathering time at 9:30 a.m.) at St. Paul on the Lake Catholic Church (157 Lake Shore, Grosse Pointe Farms, Michigan 48236).
In addition, later this fall Fr. Nicholas Monco, O.P., will conduct a special Mass in the college's Carol C. Schaap Chapel to celebrate Carol's life.