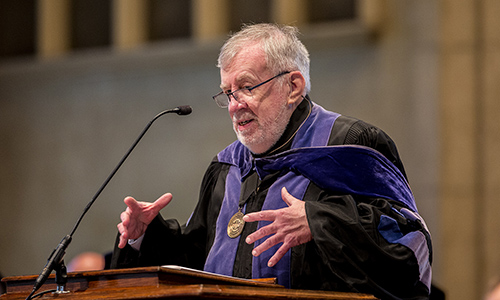 By Dr. Stephen I. Hemenway, the Betty Roelofs '53 Miller Professor of English
Sunday, May 7, 2023
Dimnent Memorial Chapel Holland, Michigan
Jeremiah 29:11 tells us: "For I know the plans I have for you," declares the Lord, "plans to prosper you and not to harm you, plans to give you hope and a future." Even though you students are leaving Hope after four (or maybe five) years of hard work and noble achievements, you are moving forward with hope for promising lives, relationships, and careers.
I also am leaving Hope as a teacher after fifty-one years of incredible enjoyment and stimulation from you and many other students before you, and hope for a fine future motivates me. None of us is leaving Hope behind. Proverbs 23:18 assures us: "There is surely a future hope for you, and your hope will not be cut off."
In my thirties, I had the honor of orating the Hope Commencement speech entitled "But Where Is the Syllabus for Living?" to the class of 1981 in Holland's old Civic Center. It contained 300 lines of rhymed poetic couplets; here is a sample:
Dear "almost" grads, my voice is aquiver
With stage fright yet love as I deliver
A farewell address to signal the end.
What should be a memorable gift to send
You jobless and poor, new Adams and Eves
Out of Hope's Paradise, but how it grieves ….
Stop! Enough ancient history. Now, in my eighties, I have the honor of delivering the Hope Baccalaureate address in Dimnent Chapel. I pondered more couplets for today's talk since Jeremiah rhymes nicely with Messiah and teacher with preacher but thought that would be too playful in a church. As an English teacher, I resonate with Romans 15:4: "For everything that was written in the past was written to teach us, so that through the endurance taught in the Scriptures and the encouragement they provide we might have hope." I find that hope in sacred Scripture and in the secular works featured in my literature courses.
Writing this sermon has been scary. For fifty previous Baccalaureates, I have heard distinguished pastors, eminent theologians, and polished preachers stand on this altar and stage and inspire graduates with spiritual depth. I am probably a strange choice here as a non-Reformed Church member of the faculty. I am a lifelong and practicing Catholic who attended Catholic grammar and high schools, graduated from the College of the Holy Cross, taught as a lay missionary at St. Mary's College in Jamaica, and was one of the founding members of Our Lady of the Lake Catholic Church in Holland. Psalm 42:5 has encouraged me: "Put your hope in God, for I will yet praise him." Truly, Hope College has strengthened my faith.
Students and colleagues have given me four points of advice for today's homily: One, be Biblical; two, be believable; three, be bizarre; four, be brief. Maybe if I do three out of four, you'll grade me B-minus. Psalm 62:5-6 is reassuring: "Yes, my soul, find rest in God: my hope comes from him. Truly he is my rock and my salvation; he is my fortress, I will not be shaken."
But how shall I shake you up? When I was editor of my high-school newspaper, I learned the importance of the five W words: who, what, where, when, why. I am going to use five remotely-connected W words as frameworks for your hopeful future. I am not dead yet, so these suggestions are also advice I give myself since we are all moving from capital H Hope to lower-case hope today. If I do not march forward in my retirement with purposeful plans, I am a hypocrite and a failure. "But those who hope in the Lord will renew their strength," says Isaiah 40:31. "They will soar on wings like eagles; they will run and not grow weary, they will walk and not be faint."
Proverbs 16:16 reminds us "How much better to get wisdom than gold, to choose understanding rather than silver." A normal speaker would stress the W word wisdom, but that's too predictable. Your class was the most unpredictable in facing the ravages of the COVID-19 plague in your first year but conquering the odds in your next three years with determination and resilience. The class of 2023 found ways to continue traditions of Pull and Nykerk and Dance Marathon, to celebrate with posters undergraduate scientific research and creative activity, to win national and regional championships in athletic and artistic endeavors. You have my everlasting praise for never missing a beat with or without masks. My five W words for you and me are: welcome, wonder, weirdness, worldliness, and worship.
Welcome everyone into your life. Today, I welcome you and all of your families. I love it when graduation falls on Mother's Day because wonderful mothers and grandmothers have nurtured all of us. Even though we're a week early this year, let's applaud them. 2 Corinthians 6:17 exhorts us: "For I was hungry, and you gave me something to eat; I was thirsty, and you gave me something to drink; I was a stranger, and you invited me in." Obviously, I love books and for the past twenty years have been welcomed to a community called Bibliophellos--a fancy word for eight older men who enjoy reading and meeting monthly over home-cooked dinners featuring food and beverages and spirited conversation from our selected book-of-the-month.
I hope to be a welcome catalyst for future students following in your footsteps through Hope Forward, and I urge you to do the same. I hope to welcome myself into more purposeful activity within the Holland community, in my church, in the Hope Academy of Senior Professionals where I have already been approached to teach some courses. I plan to welcome even more students into Hope's Vienna Summer School where I have introduced close to 3000 in the last 48 years. You will thrive by welcoming spouses, in-laws, children, neighbors, church friends, and work associates into your lives.
Psalm 19:1 reverberates: "The heavens keep telling the wonders of God, and the skies declare what he has done." Hear the echo in Psalm 65:8: "The whole earth is filled with awe at your wonders; where morning dawns, where evening fades, you call forth songs of joy." These sentences combine the concept of welcoming with the idea of wonder. I am someone who still has a childlike sense of wonder. Many years ago, I resolved to find something new and surprising to do in every single class every day, and I have loved the challenge. I have probably failed more than succeeded, but this has kept me young at heart.
I have taught more than 30 different courses at Hope to current seniors and many of your parents and a few of your grandparents. Wonderfully, I was still learning new ideas and ways of looking at life from students last week. "Amazement seized them all," exhorts Luke 5:26; "they glorified God and were filled with awe saying, 'We have seen extraordinary things today.'" Add wonder to your lives.
Wonder segues into weirdness when I think of some of the crazy ways I have gotten students involved with Inmate Initiative Days in "Crime and Punishment" or "nonpaper" assignments that allow for artistic, choreographic, cinematic, and electronic responses to works of literature. The closest I could come to Biblical approval of weirdness is in one translation of Deuteronomy 14.2: "The Lord hath chosen thee to be a peculiar people unto himself." A second translation changes "a peculiar people" to "his treasured possession," which sounds more appealing.
For several years, I have weirdly worn a different tie to each World Lit class in ways that relate to whatever work I am teaching that day. In my last official Hope class of 2023, every student appeared wearing a tie—real or paper or borrowed from ex-boyfriends. What a weird surprise! I have a peculiar penchant for low-key weirdness as a trait of intriguing people who take life seriously but find ways to bring humor, color, vibrancy, and quirkiness into their families and workplaces. Be weird, but don't overdo it.
Worldliness is a weird word in a spiritual homily which should probably condemn the often sinful and secular ideas of the world. However, I want you and me to redefine the word worldliness to make the world a better place by being Good Samaritans, by sharing our talents and possessions with people all over the world, by making our world travels into adventures that celebrate the cultures and food and religions of all people. I want to speak out more and write against war and racism and gender inequality in many parts of the world and the USA. 1 Timothy 4:10 declares: "That is why we labor and strive, because we have put our hope in the living God." I think we can all give a novel and positive connotation to worldliness to make our planet more meaningful.
A quotation from Romans 12:12 brings me to the concept of worship: "Be joyful in hope, patient in affliction, and faithful in prayer." Worship, the fifth W, comes back to welcome, the first W. Spiritual communities can keep us grounded and other-oriented. Many of you took Senior Seminar classes from me during the past two years where we flourished in classroom communities and could agree or argue with trust and care. Nehemiah 9:3 declares: "While they stood in their place, they read from the book of the law of the Lord their God for a fourth of the day; and for another fourth they confessed and worshiped the Lord their God."
Worship includes reading and communicating with companions and colleagues about the Bible, the classics, and current films to enrich yourselves. I opened my remarks with Jeremiah 29:11 and shall almost close with Jeremiah 29:12: "Then you will call upon me and come and pray to me, and I will listen to you."
Graduates of the class of 2023, may you all have hope and blessings for a fantastic future. Psalm 147:11 reminds us that "the Lord delights in those who fear him, who put their hope in his unfailing love." Although I have no authority to request this, I hope you will accept me as an honorary member of your class as I, too, graduate from Hope College this afternoon after more than five decades of willing and loving service here. In the words of Romans 15:13, "May the God of hope fill you with all joy and peace as you trust in him, so that you may overflow with hope by the power of the Holy Spirit."
Together we've listened, we've laughed, we've learned. I hope I can speak again at your tenth reunion. Dear grads, class is over, we can't stop the clock. Remember Hope, remember me. Love, Doc. Thank you. Alleluia.