The Hope Forward Program spans from orientation to graduation and provides supplemental learning opportunities focused on three pillars: community, access and generosity.
About the Program
Anchored in Hope's mission to educate students for lives of leadership and service, the Hope Forward program equips graduates to:
Be lifelong learners active in their communities

Engage with areas of hopelessness out of a personal hope and abundance

Give generously to create positive impact locally, globally and at Hope College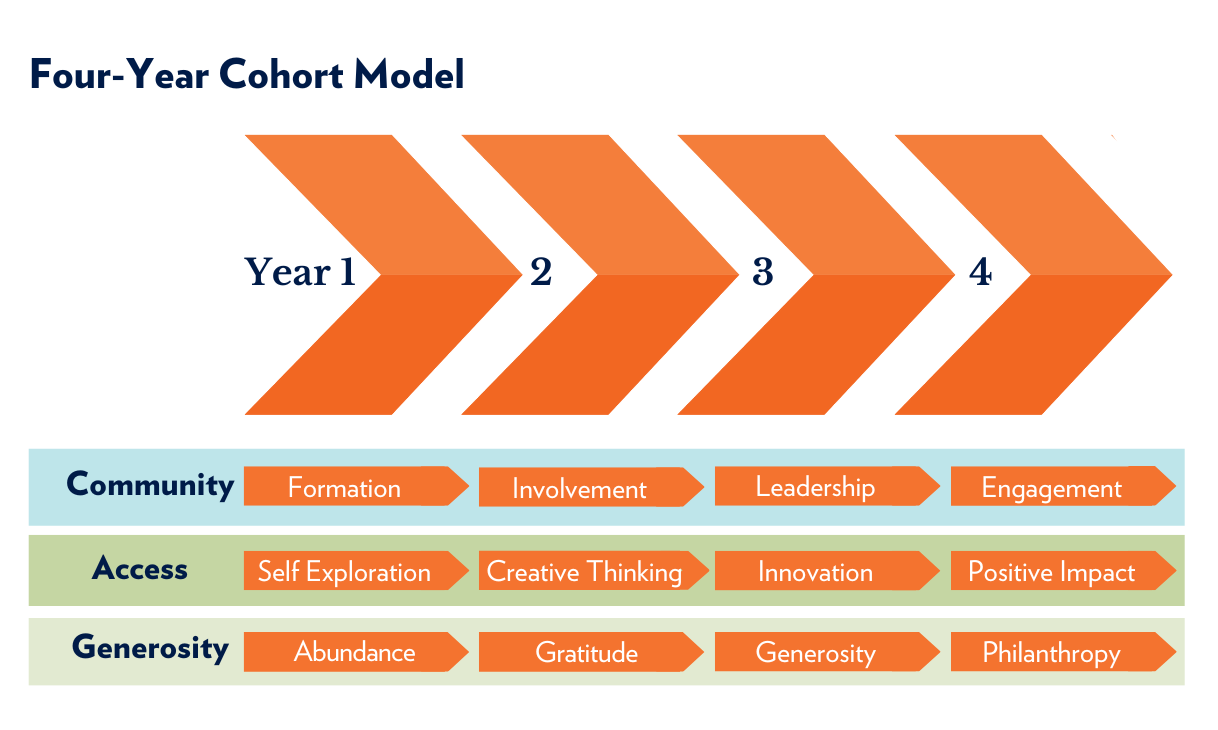 Some highlights of the Hope Forward Program include:
Dinners with the president
Off-campus retreats
The development of a personal portfolio
Supplemental advising/mentorship
Service-learning experiences
Seminars and banquets
Book studies
And, active participation in campus-wide traditions like One Big Weekend, Time to Serve and Day of Giving.
To learn more about the program, including how to apply, we encourage you to speak with an Admissions representative or visit the Hope Forward Admissions website. There you will find information about the application process and timelines.
"A beautiful part of the Hope Forward program is that students like me have entered a lifelong community. The Hope Forward vision does not want my own relationship with the community to end on the day I graduate from Hope College."
—Student in the 2025 Cohort
About Our Students
Students participating in the program demonstrate a deep commitment to their education. Their GPA is academically on-par with their peers, dispelling the notion that eliminating tuition reduces a student's incentive to take their education seriously. They represent 13 countries and 24 states across the America, with a variety of academic majors:
Biochemistry
Neuroscience
Pre-Med
Nursing
Psychology
Social Work
Exercise Science
Education
Business
Global Studies
Global Health
History
Theology
Religion
Philosophy
English
Art History
Engineering
Communications
Accounting
English
Kinesiology

Our students are vocal about their desire to succeed and give back so they can bring hope to the world. Rather than focusing on what a career can offer them, students are asking, "What can I give to make the world better?"
"I am given Hope Forward as a gift to think of myself less, both financially and mentally, as I steward my education well so that I can pour back into others who would continue to do the same. I go to college with an assurance that I am covered along with a glad responsibility to give back by passionately pursuing my dream to be a doctor who cares for his patients as much as he cares for the sciences."
—Student in the 2026 Cohort
Philanthropy and Engagement
DeWitt Student Cultural Center141 East 12th Street2nd FloorHolland, MI 49423
workP. 616.395.7775
give@hope.edu