Long before it became a national phenomenon linked to a $11 billion television contract, obsessive office wagering and another meaning to the name "Cinderella," the NCAA Men's Basketball Tournament — more commonly dubbed March Madness — had its humble beginnings in modestly populated Midwestern gymnasiums to little fanfare and hype. Gradually big-name coaches and big-city venues, plus a big-time point-shaving scandal, enveloped the tournament, directing it toward the more prominent stage it would eventually play upon today. It's this early roundball history, when college basketball was fresh-faced and growing, that Dr. Chad Carlson of the Hope College faculty recounts in his new book, "Making March Madness: The Early Years of the NCAA, NIT and College Basketball Championships, 1922-1951."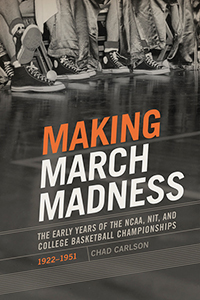 The book, published earlier this month as part of University Arkansas Press' Sports and Society series, is Carlson's first.
"No one had written about the origins of March Madness previously, the greatest sporting event in my mind," said Carlson, an associate professor of kinesiology. "We have a number of sports historians who have studied football, a lot who study the Olympics or baseball, but there are relatively few that study basketball and fewer still that study college basketball. So, I felt it was an area in need of study that naturally fit for me."
Carlson — a former Hope basketball player and the college's men's junior varsity coach — weaves first a regional tale, then national story, about a game that went from baby steps to giant leaps. College basketball in the early 20th century was not the nation-wide sensation it is today. "There were definitely pockets of colleges in the country playing basketball in the '20s," he said. "It was a very regional game with no national oversight."
And for a sport that uses little equipment, there was little coordinated governance of the standard size of the ball, net on a rim, or use of a backboard either. "Refereeing and rules were regionally enforced, too," Carlson said.
Despite the game's varied nature, the first attempt at a college basketball national tournament occurred in 1922 (hence the book starts there) and was organized by the Indianapolis Junior Chamber of Commerce. Six teams from across the country were invited and the finals featured two squads familiar to the region: DePauw University versus Kalamazoo College.
From there, the establishment of a national college tournament went about as smoothly as a fast break against a full-court press. Lack of good, fast national transportation stunted its growth, as did college administrations that were not quite ready to go all-in on college sports just yet. Finally in 1937, the NAIA (National Association of Intercollegiate Athletics) hosted a national tournament that was followed by the NIT (National Invitation Tournament) in 1938 and then last to the game, the NCAA in 1939. And, each tournament started out with only six or eight teams selected to vie for the national title.
Carlson's research led him to other fascinating insights on the growth of March Madness such as the intervention of legendary Kansas coach Fogg Allen to keep the tournament ball bouncing in 1940 after the NCAA lost money the year before; the introduction of Madison Square Garden as the host venue in 1943; the widespread participation of players in a point-shaving scandal in the late '40s; and, the responsive way the sport gave back to a greater cause during the World War II years when proceeds from the national tournament went to the American Red Cross.
"'Making March Madness' will be a history that sport historians, students, reporters, and college basketball fans will want to consult on a regular basis," reviewed Chris Elzey, co-editor of "DC Sports: The Nation's Capital at Play." "It is a comprehensive, authoritative college basketball history ... a great book."
"Making March Madness" took Carlson four years to complete and involved multiple research trips to the archives at the Basketball Hall of Fame, the Ohio State University, University of Kentucky, University of Kansas, and NCAA. Carlson leaves off in 1953 before the advent of big-network coverage and UCLA and John Wooden's rise. There's been enough written about those histories, he said.
"Had I not absolutely loved the topic, this book may have never gotten written," said Carlson, only somewhat joking. "There was so much to research and write, so many details. Plus I have a young family (he and his wife, Kathi, have two children, now ages 8 and 6). But it still was blast to find things that no one had written about that I think are really important events in the history of college basketball."
"Making March Madness" is 447 pages, about 100 of which are footnotes. Copies are available for $44.95 at the college's Hope-Geneva Bookstore, which is located on the ground level of the DeWitt Center, 141 E. 12th St., and can be called at 800-946-4673 or (616) 395-7833. Additional ordering information may be obtained by e-mailing the Hope-Geneva Bookstore.