The board's new members are Terrell Solberg, a junior from Traverse City, and Anna Hartge, a 2012 graduate from Washington, D.C.
The new officers are: president, Katie Schubert, a 2003 graduate from Frankfort, Illinois, who was previously secretary; vice president, Scott Watson, a 1986 graduate from Indianapolis, Indiana; and secretary, Tish Boerigter, a 1982 graduate from Portage. Schubert succeeds Brad Norden, a 2004 graduate from Holland; Watson succeeds Jonathan Liepe, a 1991 graduate from Colorado Springs, Colorado; and Boerigter succeeds Schubert.
Alec Nelson of Bon Air, Virginia, formerly Senior Class Representative, was appointed representative of the most recent graduating class. Chandler Alberda of Austin, Texas, formerly Junior Class Representative, was appointed Senior Class Representative.
Board members who have concluded their service are: Victoria Chapman, a 2018 graduate from Canton, and Todd Helmus, a 1993 graduate from Washington, D.C.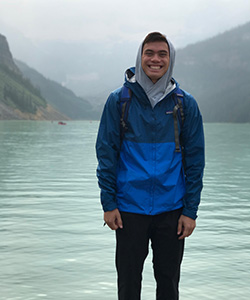 Solberg is double majoring in chemistry and psychology. He has participated in collaborative faculty-student research with Dr. Elizabeth Sanford, professor of chemistry and department chair, working to make organic compounds that can be used in both environmentally and medically relevant sensing applications. His career goal is to go on to medical school and become a pediatrician.
His activities as a student also include the Emersonian Fraternity, track and field, and the student-organized Dance Marathon fund-raiser held on behalf of Helen DeVos Children's Hospital. He is a 2017 graduate of Traverse City Central High School.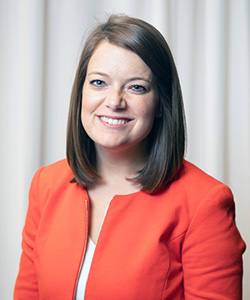 Hartge is a career counselor in disability support services at The George Washington University, from which she earned a master's degree in higher education with a focus on student affairs in 2017. She began her career as a political appointee in President Obama's administration, serving in the Center for Faith-Based and Neighborhood Partnerships in the U.S. Department of Education.
Her degree from Hope is in secondary education. Her activities as a student included the Dorian sorority, Hope Democrats and Nykerk Cup competition, and serving as president of Panhellenic Council, a Student Ambassador, an assistant director of New Student Orientation and a tour guide for admissions. She also participated in the Washington Honors Semester and the Liverpool June Term. She and her husband, Paul, who is a Calvin graduate, met at a Hope-Calvin Rivalry watch party.