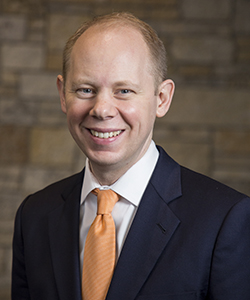 Hope College's newest presidential era will become official with the inauguration of Matthew A. Scogin as the college's 14th president on Friday, Sept. 13, at 2:30 p.m. in Dimnent Memorial Chapel.
The ceremony will be among multiple events scheduled in a public celebration that will span Sept. 11-14 and also include a concert by New York-based Young Oceans, a showcase of the college's four arts departments and the 54th annual Hope/Holland Community Day.
Learn more about the the Inauguration of President Matthew A. Scogin
In addition to the formal investiture ceremony, the Sept. 13 inauguration will feature an address delivered by Scogin. Other participants will include invited guests and multiple members of the Hope community. No tickets will be required, and admission is free.
The inauguration will also be live-streamed, available for viewing to anyone worldwide who can connect to the Internet as well as on large screens in the Great Room of the Jim and Martie Bultman Student Center and the Concert Hall of the Jack H. Miller Center for Musical Arts. Admission to the two campus sites is free.
A reception will follow the inauguration, and will run from 4 p.m. to 6 p.m. at the college's Haworth Inn and Conference Center. Admission is free.
Young Oceans, praised by Paste Magazine for lending "equal appeal to the devoted believer, meditative transcendentalist, and discerning artrock fan," will perform on Wednesday, Sept. 11, at 7:30 p.m. in Dimnent Memorial Chapel. The concert is sponsored by the college's Campus Ministries program. Admission is free.
The arts showcase will be the evening before the inauguration, on Thursday, Sept. 12, at 7 p.m. in the Jack H. Miller Center for Musical Arts and will highlight the four programs' students and faculty. Art and art history faculty and students will exhibit works in the lobby; music will feature student ensembles and faculty soloists; theatre students will present several readings and musical-theatre songs; and dance students will perform a piece titled "Testify." A reception will follow. Admission is free.
The multi-day celebration will conclude with the Hope/Holland Community Day on Saturday, Sept. 14. The day's highlights will include a picnic from 11 a.m. to 2 p.m. at DeVos Fieldhouse with music by the Holland American Legion Band and Karizma; a home Hope football game with Defiance College at 2 p.m. at Ray and Sue Smith Stadium; a home men's soccer game with Heidelberg University at 7 p.m. at Van Andel Soccer Stadium; and fireworks following the game, at approximately 8:45 p.m., at the soccer stadium but also viewable from nearby locations.
Tickets for Community Day cost $10 for regular admission and $6 for children age five to 11, with admission free for children under five. Tickets for Community Day may be purchased in advance at the Events and Conferences Office located downtown in the Anderson-Werkman Financial Center (100 E. Eighth St.), which is open weekdays from 9 a.m. to 5 p.m. and can be called at 616-395-7890. They will also be sold at DeVos Fieldhouse on Saturday, Sept. 14, beginning at 10:00 a.m. Additional information about Community Day is available online at hope.edu/communityday.
The inauguration-related activities will also feature a coffeehouse for Hope students on Thursday, Sept. 12, that will provide them with an additional opportunity to meet Scogin.
Matthew A. Scogin was announced as the college's president-elect in December after a global search and became Hope's president on July 1. He was formerly chief administrative officer at the global financial advisory firm of Perella Weinberg Partners in New York City and has also held senior positions with both the New York Stock Exchange and U.S. Treasury Department. He is a 2002 Hope graduate and prior to his election as president was also a member of the college's Board of Trustees.
More about the inauguration, including the schedule, is available online.
Dimnent Memorial Chapel is located at 277 College Ave., at the corner of College Avenue and 12th Street. The Jim and Martie Bultman Student Center is located at 115 E. 12th St., at the center of the Hope campus between College and Columbia avenues along the former 12th Street. The Jack H. Miller Center for Musical Arts is located at 221 Columbia Ave., between 10th and 13th streets.