The association plans to celebrate both the 2020 and 2021 honorees virtually at a date to be determined. The awards are normally presented at the annual Alumni Banquet during Alumni Weekend each April, but this year's and last year's in-person events were canceled because of the ongoing global COVID-19 pandemic.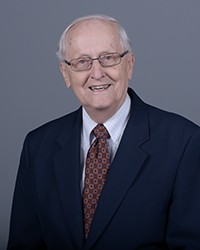 The spring 2020 honorees are the late Dr. Elton Bruins, a 1950 graduate who played a leading role in chronicling the Holland area's and college's history across more than 50 years as a member of the Hope faculty and administration and as a scholar; and Craig S. Morford, a 1981 graduate whose career in law has included leadership roles in the U.S. Department of Justice and in the health care and energy industries. Bruins died on Monday, March 23, 2020, at age 92 and is being recognized posthumously.
The 2021 honorees are Dr. Deborah Fuller, a 1987 graduate who is a professor in Department of Microbiology at the University of Washington School of Medicine and chief of the Infectious Diseases and Translational Medicine Division at the Washington National Primate Research Center, and co-founder and chief technology officer of the biotechnology company Orlance Inc.; and Lara MacGregor, a 1998 graduate who is founder and director of the international nonprofit organization Hope Scarves, which through scarves, stories and research supports people facing cancer.
Bruins was a member of the Hope religion faculty from 1966 until retiring in 1992 as the Evert J. and Hattie E. Blekkink Professor Emeritus of Religion. From 1984 to 1989 he served as dean for the arts and humanities, and in fall 1989 as acting provost, and had also chaired the Department of Religion.
He played a central role in organizing the Joint Archives of Holland, which opened in 1988 and includes the historical collections of the college and the seminary as well as other organizations that contract for archival services.
He became founding director of Hope's A.C. Van Raalte Institute in 1994, a position he held until 2002; he was subsequently named the Philip Phelps Jr. Research Professor at the institute. He retired from his research position in 2008 but continued to work with the program informally. His publications included dozens of articles on aspects of church and local history, and several books as editor, author or co-author.
He received several honors and awards, including the Friend of History award from the Holland Historical Trust (1998), Achievements in Dutch-American Studies honor from the Dutch-American Heritage Committee (1999), the President's Award from the Midwest Archives Conference (1999), the Meritorious Service Award from Hope (2009), a Special Tribute from the State of Michigan (2011) and the Distinguished Alumnus Award from Western Theological Seminary (2012). The book "A Goodly Heritage: Essays in Honor of the Reverend Dr. Elton J. Bruins at Eighty" was published in celebration of his career in 2007.
Bruins served in the U.S. Navy from 1945 to 1946, stationed in Chicago. He graduated from Western Theological Seminary with a Bachelor of Divinity degree in 1953, and subsequently completed a master's at Union Theological Seminary and doctorate at New York University. Prior to returning to Hope as a member of the faculty, he served as pastor of two Reformed churches in New York State.
He and his wife, Elaine, who survives him, had two children, both of whom are Hope alumni, Mary, a member of the college's Class of 1978, and David, a member of the college's Class of 1980; as well as several grandchildren and great grandchildren.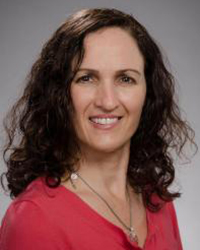 Fuller studied biology, Spanish and mathematics at Hope. In 2001, she received a Doctorate of Philosophy in Molecular and Cellular Pathology at the University of Wisconsin.
She joined the faculty at Albany Medical College in New York as an associate professor in the Center for Immunology and Microbial Disease in June 2007 following three years as an assistant professor at the University of Pittsburgh in the Department of Molecular Genetics and Biochemistry. Prior to her academic career, she was a senior scientist at PowderJect Vaccines in Madison, Wisconsin, where she co-invented nucleic acid vaccine strategies that she still employs for her academic research. She has been at the University of Washington since 2010.
Fuller has published 90 manuscripts and book chapters and is a co-inventor on over a dozen patents on the subjects of viral immunity, antivirals and DNA and RNA vaccines. She has received multiple grant awards from the National Institutes of Health and nonprofit foundations to fund her research, and she serves on several national scientific committees and advisory boards. In 2017, she co-founded Orlance, Inc., a biotechnology company developing next generation needle-free vaccine delivery technologies for DNA and RNA vaccines.
In the past year, Fuller played a key role in advancing vaccines and antivirals for COVID-19. Her lab had developed second-generation DNA and RNA vaccines for SARS-CoV-2 including one that is scheduled for human clinical trials in Spring 2021 to enable rapid manufacture and more accelerated worldwide distribution. At the start of the pandemic, Fuller was appointed to the Leadership Team on the National Institute of Health's COVID-19 Vaccines and Therapeutic Evaluation Network that aims to accelerate the most promising vaccines and antivirals to clinical testing. In the last year, she has also served a major role in enhancing public understanding of the science behind the COVID-19 vaccines. She has been a regular guest expert on Bloomberg TV, CNN, NPR and local Seattle area news and has contributed to multiple articles published by the Washington Post, The Associated Press, The Wall Street Journal, Vox, conversation.com and others.
As a student at Hope, she participated in varsity women's track, cross country and swimming, the Mortar Board honor society, and an off-campus study semester in Spain. As an alumna, she serves as part of the college's Career Resource Network.
Fuller lives in Bainbridge Island, Washington. She shares two sons with her husband, Jim Fuller.
Please visit the college online for video features about each of the four honorees prepared in conjunction with the award presentations. The features include interviews conducted by Hope College President Matthew A. Scogin '02 with Deborah Fuller, Lara MacGregor and Craig S. Morford; and with Elton's wife, Elaine, and children, Mary Bruins '78 Plasman and David Bruins '80.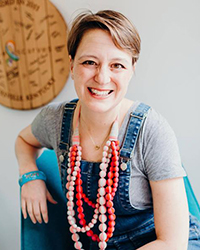 Lara Plewka MacGregor graduated from Hope with majors in English and communication. She later earned a Master of Public Administration degree from Grand Valley State University.
She was an admissions counselor at the college from 1998 to 2000 as well as a volunteer director at the Ottawa County United Way and Volunteer Center. Following her graduate studies, she spent more than five years as the associate vice president of development for McWane Science Center, a science museum and research archive located in downtown Birmingham, Alabama, before moving to Kentucky.
MacGregor was spurred to found Hope Scarves in 2012 following her experience facing cancer at age 30 when she was also seven months pregnant. Hope Scarves collects scarves and stories from people who face cancer and then sends them to others in treatment, and to date has sent more than 17,000 scarves to every state and 26 countries in addition to its donating $1 million to metastatic breast cancer research.
MacGregor is an active volunteer, & advocate serving on the board at her sons' school, and as a mentor with Hope For Two, an organization that supports women diagnosed with cancer while pregnant. Lara recently launched her own podcast, A Hopeful Life and has been nationally recognized for her advocacy work and inspiring story facing stage 4 metastatic breast cancer. She has received multiple awards for the impact she has made.
During her time at Hope, she participated in the Pull tug-of-war, was a Big Sister to an elementary child, danced in campus productions, studied off campus at the Philadelphia Center and was an active member of the Delta Phi sorority.
She resides in Louisville, Kentucky, with her husband, Jason MacGregor, and her two sons.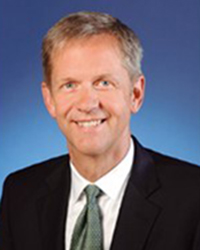 Morford currently serves as the General Counsel of ExxonMobil. Prior to joining ExxonMobil, he was Chief Legal and Compliance Officer of Cardinal Health. Prior to entering the private sector, he served more than 20 years in a variety of key public leadership positions with the United States Department of Justice. He spent most of his career as a federal prosecutor pursuing public-corruption and organized-crime cases in northern Ohio, followed by appointments as the United States Attorney in Detroit, Michigan and later as the United States Attorney in Nashville, Tennessee. In 2007, he was appointed by President George W. Bush as acting United States Deputy Attorney General, the second highest ranking official in the Department of Justice, responsible for overseeing the work of over 100,000 employees nationwide, including the Department's National Security Division, the nation's 93 U.S. Attorneys' offices, and the FBI, DEA and ATF.
Among other honors, in 2008 he received the Edmund Randolph Award, the highest award given by the US Department of Justice, as well as Attorney General's Awards for Distinguished Service in both 2003 and 2005. Also in 2005, he was named the Outstanding Assistant United States Attorney in the nation by the National Association of Former United States Attorneys and was inducted as a Fellow of the American College of Trial Lawyers. Among other service, he is a past member of the RPM, International board of directors and served on the Audit and Compliance Committee of The Ohio State University Board of Trustees.
He majored in economics at Hope, where his activities included being a member of the Cosmopolitan Fraternity. He received his Juris Doctorate from Valparaiso University School of Law in 1984.
Morford's wife, Mary Jo, is a member of the college's Class of 1983. They have four grown children and two grandchildren and reside in Dallas, Texas.